Taking On the Japanese
If you were expecting something inspired by Lincoln's early '60s Continental to replace the current LS and pull back long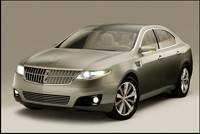 Do you like the MKS? Ford sure hopes you do. (Photo: Ford Motor Company of Canada)

disenfranchised Town Car buyers back into the Lincoln fold, something along the lines of the gorgeous Continental Concept of 2002, then you may be shocked to see that what Ford North America's new head of design, Peter Horbury, has dreamed up.
Do you like the MKS? Ford sure hopes you do, because this is "the design direction for Lincoln and its upcoming new flagship sedan," or so says the domestic manufacturer.
I first saw it during a blue-oval (and family) design forum hosted in Dearborn last month, and was immediately perplexed. I suppose the mental hurdle I have to get over in accepting this new design direction is that I've been in love with the last few concepts that came under J Mays' direction. These include the Continental Concept I just mentioned, plus the stunning two-door Mark 9 Concept from the year prior, as well as the somewhat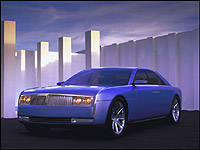 Having fallen for the Continental Concept I (shown) and stunning two-door Mark 9 Concept, it's hard to accept Lincoln's new less distinctive design direction.  (Photo: Ford Motor Company of Canada)
odd but still attractive Navicross from 2003 and T-Bird-based Mark X of 2004 (not to be confused with the MKX production CUV introduced today).
Don't get me wrong, Mays is still in charge of global operations, but now living in London town he has less influence on what takes place here in North America, and purposely so. He told me, during our conversation, that he had to get out of Dearborn in order to regain a global perspective on design, or something along those lines, therefore he petitioned Ford's CEO Bill Ford, to move to London, where most cars don't wear the blue oval (almost everyone drives a Ford, Lincoln or Mercury in Dearborn).