Las Vegas, Nevada
- With the World Premier of the C30 barely a couple of months behind, Volvo have already allowed three of its C30s to be heavily modified. In fact, these cars are the only ones in North America at the moment. At this point, no one has even driven a C30 as the first drive is scheduled for mid-November. Already Evolve, Heico and IPD (International Product Development) have heavily invested time and effort in the C30. We really like this move because it proves beyond a doubt that Volvo wants everybody to now the potential of this car and that this premium brand is looking at attracting a whole new crowd of young professional enthusiastic buyers.
Evolve C30
Evolve is well known in North America thanks to its high-performance versions of the S40 and XC90 that were presented at various auto shows in the past. For the C30, the southern Californian Company pulled out all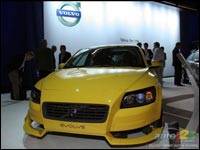 (Photo: Philippe Champoux, Auto123.com)
the stops. They did away with just about every body panel and replaced them with a wide wide-body kit, slapped on some huge rubber (P265/30R19 front and P355/25R19 in the rear) and mega-tweaked the company's already potent turbocharged 2.5L inline 5-cylinder. With proper tuning and a trick intercooler linked to the air conditioning system, the C30 pumps out a mind-blowing 507 hp and 468 lb/ft of torque. Even though there are no immediate plans to make an AWD T5 C30 available on our market; this customized car is equipped with a Haldex system. To put a stop to the onslaught of forward trust, this C30 sports some hardcore braking hardware. The 4-wheel ventilated discs are clamped down by a total of 40 pistons; 14 each calliper up front and 6 per calliper in the rear. The cabin of the C30 is kept to a race-car style minimum. A race cage is welded in place and leather covers the seating surfaces. A 10-speaker Volvo Premium Sound System with Alpine amplifier completes the interior.
Heico Sportiv/Burton Snowboard C30
If you ask me, this C30 is what the XC30 would look like should it ever be manufactured. It also boasts AWD and a boosted version of the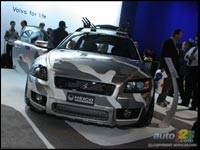 (Photo: Philippe Champoux, Auto123.com)
turbocharged 2.5L engine. In this car, it puts out an estimated 300 hp and 310 lb/ft of torque. Other mechanical features include a height-adjustable coil-over suspension and larger brakes. The exterior of the C30 is draped in a special 7-stage peal-effect paint job with a camouflage theme. The front fascia features fog lights, a sport grille and a full skirt-kit with flares. The interior of the car has all the ingredients of a premium automobile. The modified sport seats are covered handcrafted "Lugano" leather and many components feature aluminium trim. This C30 is also topped with a 10-speaker Volvo Premium Sound System with Alpine amplifier.