No it's no typo, it's a Dacia, not a Plymouth. The Dacia Duster is a compact off-roader, that is if you select the AWD version, and is the latest addition to the Renault-owned carmaker which has seen some of its models hit our shores in the 80s. Available with gas and diesel engines, fuel consumption will be more than reasonable and the real advantage will be its affordable price. Once
Fiat
returns to North America, can Renault and Dacia be far behind? We predict a Duster vs Duster ¼ mile run in the future!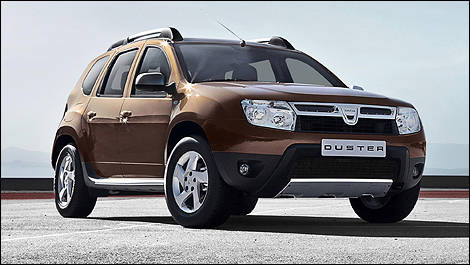 photo: Renault
As reported by Renault
Duster, the sixth vehicle in the Dacia range, stays true to the philosophy and values of the brand. Dacia Duster offers unbeatable interior space for its price, as well as low running costs thanks to thrifty
fuel consumption
, low maintenance costs, high levels of safety and reliability in all conditions. Dacia Duster perfectly embodies the brand values of reliability and affordability, while at the same time shaking up the market, a role that has helped forge Dacia's reputation.
Unbeatable space for its price
Although Dacia Duster's price is comparable to that of a city car, its exterior and interior dimensions are more akin to those of compact cars in the next segment up.
Dacia Duster can comfortably seat up to five adults and offers both front and rear occupants the same amount of space as the Dacia Logan saloon.
Dacia Duster's boot capacity – up to 475 cubic metres VDA (depending on version) – is also very competitive given the vehicle's compact dimensions. With the rear benchseat folded, Dacia Duster offers an impressive carrying capacity of up to 1,636 cubic metres VDA (depending on version).
Reliable, economical, low-emission engines
Dacia Duster will be available with a choice of three powerplants for both the 4x2 and 4x4 versions: one petrol engine (1.6 16V 110hp) and two diesel engines (dCi 85 and dCi 110). The strengths of these engines have already been demonstrated under the bonnet of many Renault group vehicles.
These engines are a perfect fit for the criteria of cost, reliability and easy maintenance that are hallmarks of the Dacia brand.
Combined with Duster's low weight, they offer low fuel consumption and impressive ecological credentials. The dCi versions emit from 135g of CO2/km for the 4x2 version (which qualifies it for the Dacia eco2 signature) and from 145g of CO2/km in the case of the 4x4 version.
Economical to buy and run Servicing and maintenance costs have been significantly reduced thanks to extended service intervals for oil changes, and brake pad and tyre replacements. The useful life of the air filters has been extended to 90,000km/four years for petrol versions, while that for diesel it has gone from 40,000km to 60,000km.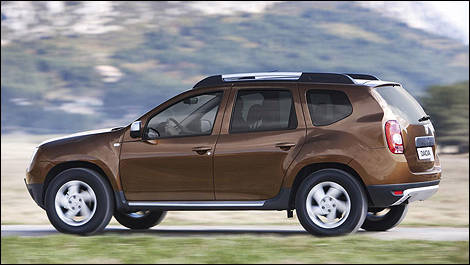 photo: Renault