The Micra is a familiar nameplate even if we only ever got the 1st generation car which disappeared almost 20 years ago. This latest version is a clear evolution from the previous K12 and K12C Micra but the real kicker is that the 4-cylinder engines will lose one piston. Talk about downsizing! Part of the production of the Micra will come from Mexico; we're thinking that if Nissan wants part of the steam generated by the
Fiesta
and
Mazda2
, now is the time.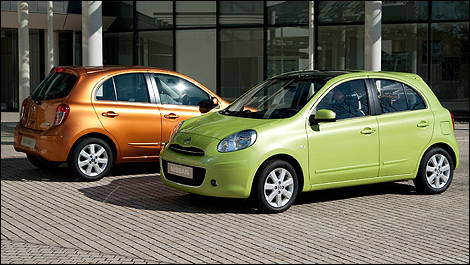 photo: Nissan
As reported by Nissan
Boasting breakthrough packaging and small-car engineering, the all-new, fourth generation Nissan Micra (known as March in Japan) is on course to create a whole new set of industry standards. Unveiled today at the Geneva Motor Show, the Micra has consistently won praise and success for in Europe, Japan and other markets, gaining a reputation as a reliable, stylish, accessible compact car enjoyed by a wide cross-section of customers. The new Micra has been designed to build on that trend – in 160 countries.
Breaking with traditions that focused on launching production in established markets like Europe and Japan, Nissan will base production of the new Micra at overseas manufacturing sites such as Thailand, India, Mexico and China.
Design
A unique design feature of this car – its double-layer integrated grille – meets these requirements. But the car's classic shape was also crucial. That's why it also employs a stylised version of the distinctive arched side window line, something that is central to the Micra's heritage, identity and appeal in Europe and Japan.
Retaining its compact dimensions, the new car is slightly longer and marginally lower, while its longer wheelbase enables a 'wheels-at-each-corner' stance, the main reason behind the Micra's roomier interior.
All-new Engine and CVT
In Europe, a simple engine line-up sees just two engines options – both are variations on Nissan's all-new naturally aspirated HR12 1.2-litre, 3-cylinder petrol engine. Inheriting its DNA from the HR16 4-cylinder engine powering the Note and Qashqai, the new engine employs valve-timing control (VTC). Power is rated at 59kW (80ps, while torque output is 108Nm. At only 115g/km, CO2emissions for this version are world-class.
Nissan will also offer a supercharged 1.2-litre direct injection iteration with a start-stop system fitted as standard in Europe. These technological innovations – stop-start reduces CO2 by six per cent – combine to offer spirited performance, with outputs of 72kW (98PS) and 142Nm of torque. Emissions will be just 95g/km, an exceptional achievement for a petrol engine.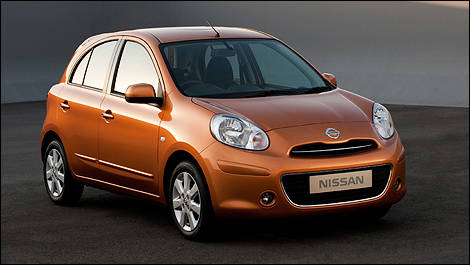 photo: Nissan