Pros:
In spite of weighing-in at close to two tons, the 2015 Land Rover Range Rover is capable of breathtaking acceleration. In addition, it provides unrivalled off-road skills. It offers a level of luxury and comfort that matches its prestige.
Cons:
Alas, the 2015 Range rover is not without fault. Starting with a V8 version that is always thirsty. But, when one can afford such an enormous vehicle, is this really an issue? The third-row seating is not really accessible for adults; it is better suited for children. In addition, as is the case for most Land Rover products, reliability remains an Achilles Heel.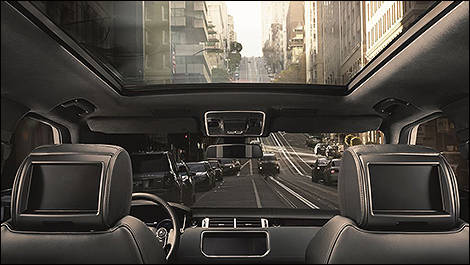 Photo: Land Rover
2015 Land Rover Range Rover Price:
The 2015 Land Rover Range Rover is offered in four versions: the Range Rover at $102,555, the Range Rover HSE at $106,555, the Supercharged Range Rover at $117,555 and the Autobiography Range Rover at $152,555.
2015 Range Rover Fuel Economy:
Fuel economy ratings for the 2015 Range Rover are not available at this time.
Improvements and Changes:
No major changes for 2015.
2015 Land Rover Range Rover Powertrain:
Land Rover proposes two engine options based on the selected Range Rover model: a supercharged 3.0 litre DOHC V6 that produces 340 hp or a supercharged 5.0 litre V8 that produces an impressive 510 hp. Both engines are mated to an 8-speed ZF automatic transmission with stop-start technology.
Cargo Capacity:
The Range Rover luggage compartment can hold up to 909 litres.
Safety:
Safety features in the 2015 Land Rover Range Rover include ABS brakes, electronic braking assistance, electronic brake-force distribution, dynamic stability and anti roll stability control, trailer stability control, terrain response auto adjustment, electronic traction control, active speed limiter, dynamic route guidance and lateral and rear obstacle warnings.
Comparing the 2015 Land Rover Range Rover:
This luxury SUV category includes the BMW X5, the Cadillac Escalade, the Infiniti QX80, the Lexus LX570, the Lincoln Navigator and the Porsche Cayenne.