Chelsea, Michigan -
For some,
Chrysler's ecoVoyager Concept
looks like a private jet. Others see an egg on four wheels. The most cynical critics will compare it to the Previa of the nineties.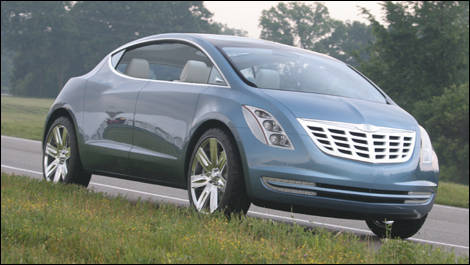 This prototype of a futuristic sedan is ultra-modern yet ultra-simple.
Introduced in January at the
2008 Detroit Auto Show
, this prototype of a futuristic sedan (only 1.4-centimeter shorter than a
Chrysler Sebring
) is ultra-modern yet ultra-simple. We had the opportunity to get a closer look at the vehicle during the 2009 Chrysler, Dodge and Jeep model presentation at the automaker's Chelsea Proving Grounds in Michigan.
A view from every angle
The originality of this concept can be found in the plethora of unique details, starting with the panoramic glass roof. Then there's the "spine" that dissects the vehicle from the trapezoidal grille to the similarly-shaped rear fascia and taillights. This center ridge is reminiscent of the Bugatti T57 SC Atlantic of the late thirties.
A tight front overhang emphasizes the tapered nose of the car. Such body configuration not only provides excellent visibility for the driver but also maximizes interior room. In the back, the streamlined body culminates in an equally tight overhang, making for a squat-looking rear end that resembles an upside-down boat stern.
The sides are enhanced by thin decks which give more purpose to the car, while bold, intersecting character lines convey a sense of speed and athleticism. These elements are merely aesthetic but they sure make this clean design look sleeker and sharper.
Hydrogen
and
electricity
As the name suggests, the Chrysler ecoVoyager is a green vehicle. The under-floor electric motor is powered by a lithium-ion battery pack. The available range reportedly allows a typical driver to complete about a 60-kilometer daily commute to work and back. It can be increased through regenerative braking, an advanced system allowing for otherwise lost energy during braking to be re-used.
What's more, the car moves forward with surprising authority. The hybrid powertrain of the ecoVoyager develops 268 horsepower and allows 0-100 km/h accelerations in less than 9 seconds.
The curvy design features tight overhangs as well as an impressive greenhouse.