The premise behind the
Bertone B99 concept
shown at the
Geneva Motor show
is an interesting one. The Italian auto designer and coachbuilder effectively built a machine to show what a potential replacement for the
Jaguar X-Type
might look like. The concept's name references the 99 years Bertone has been in business, while the design itself effectively projects Jaguar's classic styling language into the future, with a new take on the brands looks.
So, why build a concept car wearing another automakers badge? It's a fairly common practice by design houses to create an un-commissioned, un-assisted concept based on another automakers work. In Bertone's case, it was a simple matter of attracting Jaguar's business interest in having them design an upcoming BMW 3-Series competitor—since Jaguar has said they want to launch a small sedan in the coming years to boost sales.
Reportedly, in the most politely British way possible, Jaguar officials basically said 'Thanks, but no thanks' to Bertone's concept. Reportedly, Jaguar won't be going with the Italian design, if and when their sub-XF sized sedan goes on sale. Jaguar also clarified that they had nothing to do with the concept, and that they weren't offended by it—only that it wasn't their cup of tea.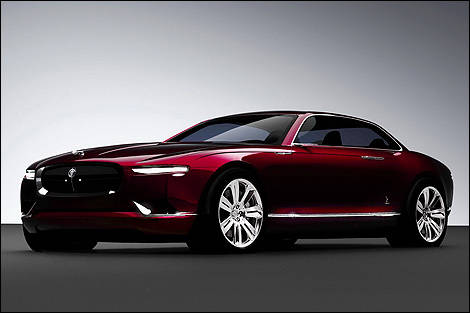 Photo: Bertone
Perhaps the old-school feel to the B99's design, which echoes Jaguars of the past, is part of the reason why. After all, some of those Jaguars of the past are Jaguars that Jaguar would like folks to forget about.
Still, an interesting concept. Showgoers noted the long wheelbase with short front and long rear overhangs, a wide rear stance, and a sense of built-up, ready-to-pounce energy built into the body. In the rear, there's a speed-deployable spoiler. Reportedly, up front, the potentially-sharp Jaguar badge is attached to a high-speed electric motor, and retracts instantly in the event of a pedestrian collision, preventing impalement.
Coinciding with the B99's well-to-do intentions, it's also powered by a hybrid drivetrain—though no specifications were given. Note that Bertone has been exploring alternative fuel and electric vehicle technologies for several decades.
A race-track inspired variant of the B99 was also presented at Geneva, featuring PZero tires, upgraded wheels, high performance body cladding and heaps of fluorescent green aerodynamic add-ons.
Though the track-going B99 concept has a decidedly sparse racecar interior, the would-be roadgoing concept featured slim seats, unique wood-trimmed door panels and access for four occupants via a set of 'suicide' doors with no B-pillar.
So, is the B99 a massive failure for Bertone? Not exactly. Besides, in 99 years of existence, the company has been responsible for styling various famous machines, including the Lamborghini Countach, Ferrari 208 and 308, and numerous models for Fiat, Lancia and Alfa. Bertone is also responsible for design work in various former Volvo, Chevrolet, Mercedes and Aston Martin products. They've designed five past Jaguar models, too.