Small is the current big thing, and Lincoln has been never one to talk small. They've been all about big cars since the inception of the company mid-1917.
This is about to change.
The introduction of the Lincoln MKC Concept demonstrates that Lincoln is ready and about to jump into the industry's fastest-growing segment: small luxury utility vehicles. Last year alone, this category grew by 60% and has grown by more than 200% in the last four years. This, my friends, is where it's at. In fact, in this relatively short period of time, the small luxury utility segment has crushed all other luxury segments. And this is far from the end, as the segment is expected to continue to expand over the next four years.
The Lincoln MKC Concept is immediately identifiable as a Lincoln in large part thanks to its split-wing grille which has been a Lincoln signature since the famed Zephyr of the 1930s. As it stands, the MKC Concept is muscular and well proportioned. The hood, wheel arches and beltline are the elements to thank for the MKC's proper look.
Dimension-wise, the Lincoln MKC Concept's wheelbase, at 2,717.2 (106,9") is roughly 10cm (4") shorter than that of the 2013 Ford Edge. As well, the MKC is marginally shorter height- and length-wise than the aforementioned Edge. From a width standpoint, they are identical.
The Lincoln MKC Concept's cabin is further proof that Lincoln and Ford are masters at the art of craftsmanship and luxury. High-end materials cover every surface and they include leather, chrome and wood jewelry.
The dashboard is elegant and looks production-ready. This 4-seater Lincoln MKC Concept (more than likely, it will be a 5-seater upon production) features a distinctive push-button gear shift selector, first introduced by Packard and Chrysler right around 1956. The idea is to increase console stowage space.
No real word yet as to what will power the Lincoln MKC Concept, although we guess that the powertrains currently available in the Ford Edge are likely candidates. If Lincoln can keep the weight in check, a 2.0T EcoBoost with AWD sounds very likely. A 3.7L V6, as with the
MKZ
, makes sense as well.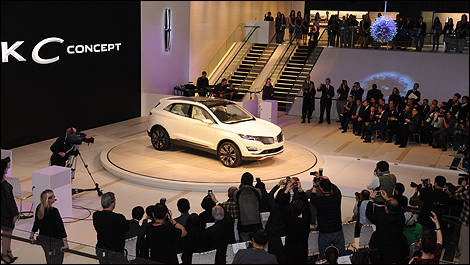 Photo: Lincoln