I must admit that interviews are not my forte, nor do I own a Kia, not that I wouldn't want one. I'm a self-proclaimed car-tard and it has always been about the cars, not the people. In time, I matured (really) and realized that people are the product and this is what drives passion and makes us, the car-buying public, want to buy.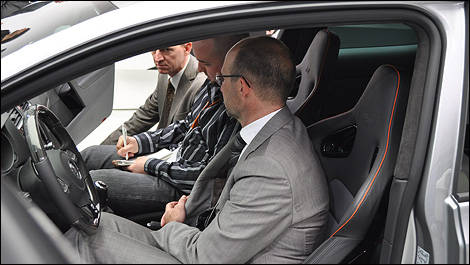 Photo: Mathieu St-Pierre/Auto123.com
A while back, at the Detroit Auto Show, I nearly literally ran into
Peter Schreyer
, Kia Design God, and managed to put together an on-the-spot question period. This time, as Volkswagen was kind enough to invite Auto123.com to the Geneva Auto Show, I thought I'd try my hand at asking Klaus Bischoff, Head of Design for Volkswagen since 2007, a few questions.
I you've been following VW's progress and changes over the last few years, you'll understand why I began our conversation with a big congratulations on everything he has done for the company in the last few half-decade or so. In a brief nutshell,as Head of Volkswagen Design, he has overseen the designs of the new Tiguan, new Passat, new Jetta, CC, Scirocco, Touareg and Golf as well as all the latest concept-cars: Up-Lite (Los Angeles), NCC (Detroit), XL1 (Qatar) and the new Bulli (Geneva).
I brought up the well-known fact that Volkswagen as a group and a brand, had a banner year in 2010. My first question was simply: "How important is design for VW as they move forward towards their goal of being the #1 car maker in the World by 2018?".
The answer, as you might imagine, was quite loaded.
He began by explain to me that "In VW's philosophy, the way we design cars works and starts with technologies and character. When designing a car, all facets are important". Essentially, they do not create some off-the-handle concept only to have it torn down by engineers and bean-counters.
In fact he said that: "Car guys, enthusiasts [that work for VW] work with the bean-counters in the development of the final product".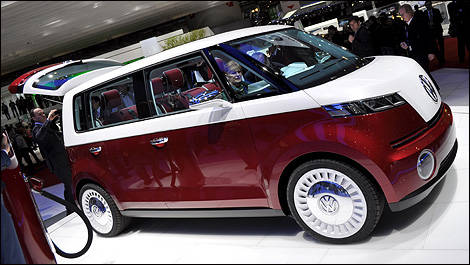 Photo: Mathieu St-Pierre/Auto123.com