From press release
Alex Tagliani returns to the No. 61 R.Ferri/AIM Motorsport Racing with Ferrari 458 Italia and co-driver Jeff Segal for this weekend's Continental Tire Sports Car Festival at Mazda Raceway, September 7–8, after the debuting duo's near-dominating performance one race ago at Kansas Speedway.
Tagliani is looking forward to making up for the victory that slipped away at Kansas when the series hits the legendary 2.238-mile, 11-turn road course in Monterey Saturday and Sunday.
Tagliani debuted in the No. 61 R.Ferri/AIM Ferrari at Kansas and promptly topped both practice sessions, won the pole and joined Segal in leading a race-high 61 laps in the SFP Grand Prix at Kansas. Only a stuck fuel nozzle in the team's final pit stop prevented a victory, but Segal, who set the fastest GT race lap, still managed to charge back to a sixth-place finish.
The popular IndyCar racing veteran from Quebec, was the second consecutive Canadian driver to step into the No. 61 for regular team driver Max Papis this season. One race earlier, Ontario-based driver Kenny Wilden replaced Papis when "Mad Max" drove in the first of back-to-back NASCAR races in early August.
Combined, the Canadian duo of Tagliani and Wilden brought a great deal of additional local exposure and awareness to the Toronto-based Remo Ferri Group of Automobiles, which operates Ferrari dealerships in Toronto, Ontario and Alberta. Continuing with a Canadian driver was a primary decision in sticking with Tagliani for the rest of the season.
The significance of a French-Canadian race car driver competing for the famous "Prancing Horse" brand is not lost on Tagliani.
"My first idol in racing was Gilles Villeneuve, who was racing for Ferrari, and I always kept that passion," Tagliani said. "Ferrari is putting a lot of dedication into the North American program in GT, and I am honored to be one of the guys that represent them."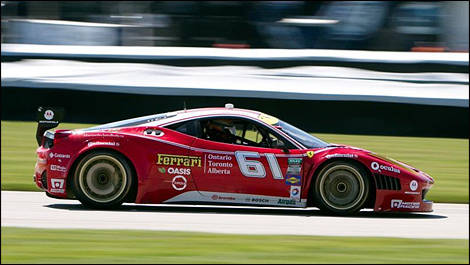 No. 61 R.Ferri/AIM Ferrari