The new 2008 Saturn Astra in more detail.
McCormick Place, Chicago -
It was a very excited Mrs DeVries-Allen, fresh from a television interview that answered a few questions in relation to the all-new and much anticipated Saturn Astra. Once the introductions were completed, my busy yet patient interviewee immediately stated that she and other collaborators on the "Astra Project" had worked very closely with GM Canada's people when this undertaking was first put onto the table. I was delighted to hear this as she was already aware that we Canadians love our hatchbacks.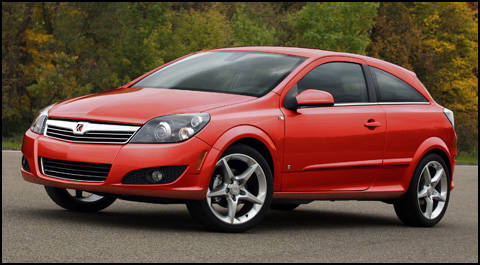 2008 Saturn Astra
She reminded me that the 2008 Astra is last piece of the Saturn puzzle or the brand's complete makeover. In a period spanning only 20 months, Saturn's entire line-up will have been replaced; all of this having begun with the SKY roadster in March of 2006.
Amongst the final details that make up the Astra, Mrs DeVries-Allen first mentioned the large number of standard safety features. "The Astra has 6 airbags, active head restraints and 4-wheel disc brakes with ABS. All of these elements combine to make the Astra one of the safest cars in its compact segment." She was also quick to add that this car will offer GM's StabiliTrak electronic stability control with traction control as an option with the 5-door Astra but standard on the 3-door.
Other innovative features that we Canadians will surely like are available heated seats (cloth or leather), heated side-view mirrors and most importantly, cup holders for our regular trips to Tim Hortons (OK, she did not say that...) The addition of front and rear cup holders is one of the very few changes that were done to the original Opel Astra.
Following my question concerning the Astra's well-known handling abilities, Mrs DeVries-Allen assured me that nothing in the way the car drives or performs has been altered from the excellent Opel. The front independent and rear semi-independent suspension retains the same settings as does the car's electro-hydraulic steering. Lastly, she pointed out that the Astra will be shod by wheels ranging from 16 to 18", the larger ones being reserved as an option on the 3-door XR.
She was visibly happy with my enthused responses to every thing she had enumerated. I ended off our short conversation with a few lines that many readers will probably agree with: "It must feel great to be able to offer a car that you know consumers have longed for. This is what they have wanted for a long time." She agreed while assuming that the Astra will literally fly of the shelves.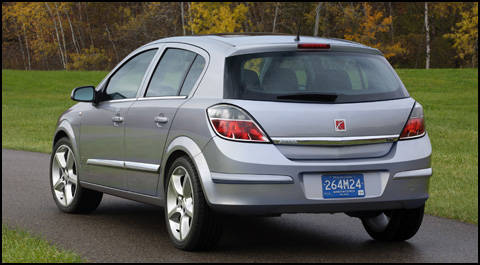 2008 Saturn Astra
The Astra will be on sale by the 4th quarter of 2007. The 5-door version will be available in either XE (base) or XR trim. The 3-door will only be delivered as an XR. The Astra is power by a 140 hp ECOTEC 1.8L 4-cylinder engine. No pricing has yet been announced however expect the 5-door XE to start in the vicinity of $17,000 cdn.
photo:
General Motors