As reported by Jaguar
Jaguar will unveil the latest dramatic evolution of its supercharged XKR coupe at the Geneva Motor Show in March. This
XKR
delivers a significantly raised maximum speed – up to 174mph from 155mph – and bold styling changes that create an evocative and unique supercharged Jaguar.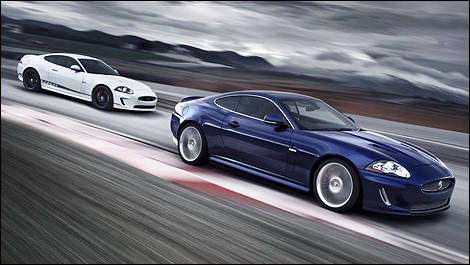 photo: Jaguar
The XKR Coupe unveiled at Geneva showcases two new optional performance and styling packs – Speed Pack and Black Pack - that are introduced to the XK range at 2011 Model Year. Jaguar customers have the option to personalise their vehicle to create a car that offers even greater performance without compromising the refinement and luxury for which every Jaguar is renowned.
By raising the XKR's maximum speed the new car has extended its sporting credentials taking it even further into supercar performance territory.
Russ Varney, Chief Programme Engineer, XK Series, explains the philosophy behind the uprated XKR: "With 510PS and 625Nm of torque, the XKR has immense reserves of power and acceleration which impress everyone who experience it. The car has always had the potential to reach speeds far beyond its original electronically limited maximum and many of our customers have expressed an interest in a car that can safely be driven faster where conditions permit. The new Speed Pack allows them to release some of that potential and give them control of the fastest Jaguar XK we've made to date."
The XKR Coupe featured at the Geneva Show on 4th March 2010 pairs both the optional Speed and Black Packs to create the bold new model, which also sports optional Piano Black veneers on the dashboard and red
brake
callipers.
The XKR Speed Pack
The XKR Coupe with new optional Speed Pack allows customers to further strengthen their XKR's already impressive breadth of capability, by extending the car's top speed from 155mph (250km/h) to an electronically limited 174mph (280km/h) thanks to a unique engine and transmission recalibration.
To ensure the XKR with Speed Pack remains stable at high speeds, the coupe uses a revised front aerodynamic splitter and larger rear spoiler to provide increased balance and a reduction in lift. The XKR's computerised Active Differential Control also adjusts to reduce steering sensitivity at very high speeds, further improving stability and driver control.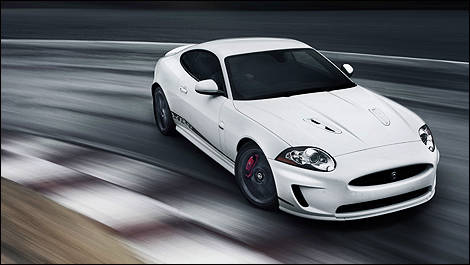 photo: Jaguar