The Jeep Wrangler Unlimited EV is the off-road electric utility vehicle recently announced from Chrysler. Although the Wrangler Unlimited EV is only fitted with rear-wheel-drive, Chrysler has announced that the electric-drive technology can be applied to all four wheels.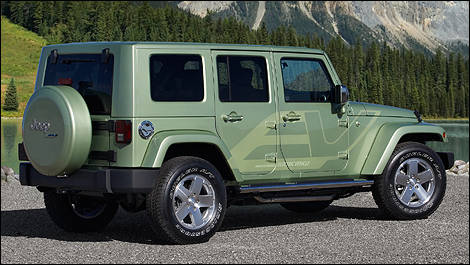 Chrysler is demonstrating the versatility of their electric drive technology.
The five-passenger Wrangler Unlimited EV is powered by a 200 kW (268 hp) electric motor that sources its energy from advanced lithium-ion batteries. This combination delivers a 0-100 km/h time of about nine seconds and a reduced top speed of 145 km/h. More significantly however, the Wrangler Unlimited EV can run 64 km solely on electric power before continuing on for an estimated 580 km on a relatively small tank of gas.
The extended range is delivered by a 94-hp gasoline generator (larger than that used in the Jeep Patriot EV) that recharges the batteries along with regenerative brakes. There is even the possibility of plugging in the Wrangler Unlimited EV to standard electrical outlets.
Outside of the high-tech drivetrain, the Wrangler Unlimited EV has a basic chassis with solid front and rear axles. This Jeep has a go-anywhere feel to it with high 44.4 and 40.5 degree angles of approach and departure, respectively. Given high levels of torque from the electric motors (and adding in all-wheel-drive), this zero-emission-capable Jeep may be the best yet for being one with nature.
Seemingly in response to hype about the
Chevy Volt
, Chrysler announced the Wrangler Unlimited EV alongside four other 'green' vehicles:
Jeep Patriot EV
,
Chrysler 200EV Concept
,
Chrysler Town & Country EV
, and
Dodge Circuit EV.
These are the products of
Chrysler's ENVI
(short for "environment") division, which was created after the 2007 separation with Daimler to carry on with green technology research and development. Chrysler is using these products to convince buyers, and, more importantly, government bail-out leaders, that the company can survive in the revolutionizing automotive market.
Chrysler is in a partnership with General Electric to develop efficient batteries; meanwhile, other companies are also involved in the production of equipment used by Chrysler (among other manufacturers). Though the technology is existent, the largest obstruction to delivering these lithium-ion electric vehicles to market appears to be the high cost of production. Just like early plasma screen televisions however, costs will drop over time.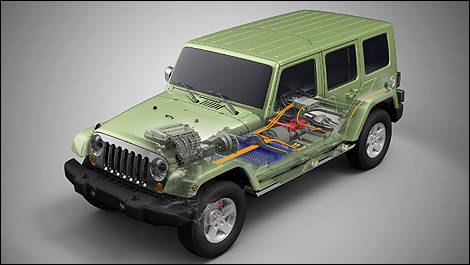 There is even the possibility of plugging in the Wrangler Unlimited EV to standard electrical outlets.