Seems like Lexus is intent on sending their IS series right after the Germans by offering a huge degree of model selection. Their entry-level model already puts several engines, transmissions and an all wheel drive system on the options list, as well as a V8 powered high-performance model.
What's next? A drop-top.
The luxury division of Toyota today released their IS retractable hard-top convertible at the
2008 Paris Motor Show
. Available in IS 250C and IS 350C designations, they'll be on sale next spring. Power comes from the same 2.5 litre, 204 horsepower V6 or 3.5 litre, 306 horsepower V6 as the standard hard-topped car.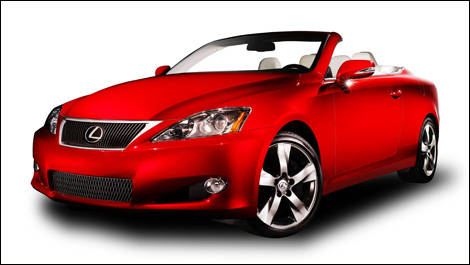 Lexus IS 250C
Just 21 seconds of panel articulation separates occupants from the open sky above as the three-piece aluminum roof folds and stacks into the trunk.
Designers have made some visual changes to help integrate the roof with the rest of the machine's body, and the rear overhang has been extended to generate more cargo space as well. Look for new LED taillamps, a standard spoiler and a revised fog-lamp design to help set the IS convertible apart.
No word on an IS-F convertible as of yet.
photo:
Lexus