2006 Los Angeles Auto Show
A big sedan for 2027
Dec 6, 2006
Suzuki Xbox 360
Dec 5, 2006
Redline, the one and only goal
Dec 5, 2006
Ford
Dec 5, 2006
Chrysler
Dec 5, 2006
Purebred Italians
Dec 4, 2006
Honda StepBus and Remix
Dec 4, 2006
Acura
Dec 1, 2006
Saturn
Dec 1, 2006
Audi
Dec 1, 2006
General Motors
Nov 30, 2006
Nissan surprises us with the Altima Coupe!
Nov 30, 2006
LA Auto Show: 100 years
Nov 30, 2006
Tiger Woods unveils the new 2008 Buick Enclave
Nov 29, 2006
Los Angeles, California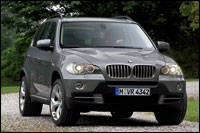 2007 BMW X5 (Photo: BMW)
Looking to catch up with the competition, BMW unveiled its 7-passenger midsize SUV at the LA Auto Show. The X5 is truly a "sport utility" vehicle, one capable of besting several sports cars. This time, on top of a power increase, the automaker added a third-row split-folding bench. Let's be serious: these seats are only good to be used by small children during short trips. An all-new six-cylinder engine is now available, producing 265 horsepower and 225 lb-ft of torque. Despite the additional power, the X5's fuel economy will reportedly be improved thanks to a new six-speed automatic gearbox and a 30-kilo weight reduction. Meanwhile, the 4.8L V8 has been reworked to improve its efficiency.
Hydrogen-powered 7-Series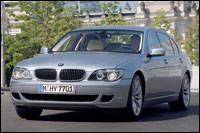 BMW 7-Series Hydrogen (Photo: BMW)
Some of BMW's North American customers will get the opportunity to test hydrogen-powered 7-Series sedans. These cars are already found on European roads. However, don't expect anything more than this eco-oriented initiative. Infrastructures for hydrogen distribution are still far from reality, even if more and more automakers, such as BMW and Honda, are considering the hydrogen technology. What you should expect, though, is seeing diesel-powered BMW cars beginning in 2008.