2006 Los Angeles Auto Show
A big sedan for 2027
Dec 6, 2006
Suzuki Xbox 360
Dec 5, 2006
Redline, the one and only goal
Dec 5, 2006
Ford
Dec 5, 2006
Purebred Italians
Dec 4, 2006
BMW unveils 7-passenger X5
Dec 4, 2006
Honda StepBus and Remix
Dec 4, 2006
Acura
Dec 1, 2006
Saturn
Dec 1, 2006
Audi
Dec 1, 2006
General Motors
Nov 30, 2006
Nissan surprises us with the Altima Coupe!
Nov 30, 2006
LA Auto Show: 100 years
Nov 30, 2006
Tiger Woods unveils the new 2008 Buick Enclave
Nov 29, 2006
Los Angeles, California
2008 Chrysler Sebring Convertible
Chrysler's customer focus groups must be the most indecisive in the industry. According to Chrysler, it's why we have both a Jeep Compass AND a Patriot,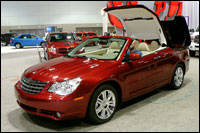 2008 Chrysler Sebring Convertible (Photo: John LeBlanc, Auto123.com)
and, apparently, why they will offer their new two-door, four-seat Sebring convertible with a vinyl, cloth or steel retractable hardtop. The Sebring has been the best-selling convertible in the U.S. market seven out of the past 11 years, so Chrysler is definitely hedging their bets with three convertible top options. Beyond the trio of tops, the Sebring also distinguishes itself with a trunk big enough to hold two golf bags with the top down, four when it's retracted. Try that with a Pontiac G6 convertible. Drivetrain and trim options will be similar to the Sebring four-door. The Sebring convertible--all three of them--should be on sale just in time for next spring's top down motoring.
2007 Dodge Caliber SRT4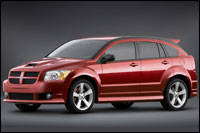 2007 Dodge Caliber SRT4 (Photo: Dodge)
Sitting uncharacteristically quiet in a corner of Chrysler's booth was the long awaited Street and Racing Technologies version of the not-so-subcompact Caliber. The only question driving enthusiasts are asking is how will 300 horsepower and 260 pound-feet of torque--through only the front wheels--translate to on-the-road feel?