2006 Los Angeles Auto Show
A big sedan for 2027
Dec 6, 2006
Suzuki Xbox 360
Dec 5, 2006
Redline, the one and only goal
Dec 5, 2006
Chrysler
Dec 5, 2006
Purebred Italians
Dec 4, 2006
BMW unveils 7-passenger X5
Dec 4, 2006
Honda StepBus and Remix
Dec 4, 2006
Acura
Dec 1, 2006
Saturn
Dec 1, 2006
Audi
Dec 1, 2006
General Motors
Nov 30, 2006
Nissan surprises us with the Altima Coupe!
Nov 30, 2006
LA Auto Show: 100 years
Nov 30, 2006
Tiger Woods unveils the new 2008 Buick Enclave
Nov 29, 2006
Los Angeles, California
Ford Mustang by Giugiaro Concept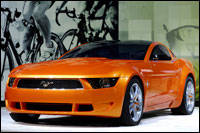 (Photo: Ford)
Ford head pen, J Mays, commissioned noted Italian design studio, Italdesign-Giugiaro S.P.A, to ostensibly keep their Mustang near the spotlight while the car media goes goo-goo gaa-gaa in anticipation of Chevy's Camaro and Dodge's Challenger. Led by Fabrizio Giugiaro, son of design legend, Giorgetto Giugiaro (who sketched the 1965 Bertone Mustang), the new Mustang concept differs from the production model with a shortened and widened rear, a full glass-panel roof, a stretched and smoothed over front end and a fully customized interior. The piece de résistance are the car's Lambo-scissors doors.
Ford Escape
As a perennial best-seller in the cute-ute class, the new 2008 Escape doesn't deviate too much from its successful predecessor's formula.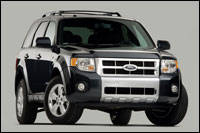 (Photo: Ford)
Updated exterior styling better ties in the compact five-door's looks with other Ford SUVs, and the interior receives the same high-quality execution found in the F150. Of note, the new Escape uses the first automotive application of entirely recycled materials for its seating materials. Underneath, Escape mechanicals are much the same. A four-banger is standard, with a six available on upper level Escapes and the electric-gasoline hybrid also returns. Expect to see Mazda's version of the Escape, the Tribute, to return from hiatus at January's Detroit show.