2006 Los Angeles Auto Show
A big sedan for 2027
Dec 6, 2006
Suzuki Xbox 360
Dec 5, 2006
Redline, the one and only goal
Dec 5, 2006
Ford
Dec 5, 2006
Chrysler
Dec 5, 2006
Purebred Italians
Dec 4, 2006
BMW unveils 7-passenger X5
Dec 4, 2006
Acura
Dec 1, 2006
Saturn
Dec 1, 2006
Audi
Dec 1, 2006
General Motors
Nov 30, 2006
Nissan surprises us with the Altima Coupe!
Nov 30, 2006
LA Auto Show: 100 years
Nov 30, 2006
Tiger Woods unveils the new 2008 Buick Enclave
Nov 29, 2006
Los Angeles, California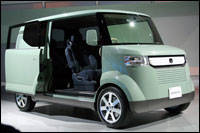 Honda StepBus (Photo: Amyot Bachand, Auto123.com)
Honda wanted to give us a taste of the not-so-distant future with three concepts designed by its California studio. We already knew the FCX, tomorrow's hydrogen-powered sedan. The second model, the StepBus, is redefining the Element, in my mind. Its philosophy is similar to Nissan's Cube while its inspiration can be found in Toyota's Scion xB. The execution is interesting. Here we have an ultra urban vehicle with youth-oriented capacities and surroundings. The StepBus aims to offer lots of space at a low price.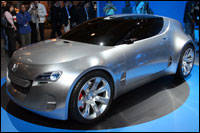 Honda Remix (Photo: Amyot Bachand, Auto123.com)
The third concept, called Remix, is the one that really blew the crowd of journalists at the LA show. Penned by Ben Davidson, a 27 years old designer, the Remix has a straightforward yet dynamic style. Davidson told me that he was fascinated when the iPod hit the market; it looked basic and attractive at the same time. "I'm attracted to simple objects that look stripped out," he said. As a car enthusiast born in Ohio, he studied design at the University of Cincinnati. Davidson created the Remix in only eight months, from the first sketches to the actual model. In fact, he completed his project one week prior to the opening of the show.