2006 Los Angeles Auto Show
A big sedan for 2027
Dec 6, 2006
Suzuki Xbox 360
Dec 5, 2006
Redline, the one and only goal
Dec 5, 2006
Ford
Dec 5, 2006
Chrysler
Dec 5, 2006
Purebred Italians
Dec 4, 2006
BMW unveils 7-passenger X5
Dec 4, 2006
Honda StepBus and Remix
Dec 4, 2006
Acura
Dec 1, 2006
Audi
Dec 1, 2006
General Motors
Nov 30, 2006
Nissan surprises us with the Altima Coupe!
Nov 30, 2006
LA Auto Show: 100 years
Nov 30, 2006
Tiger Woods unveils the new 2008 Buick Enclave
Nov 29, 2006
Los Angeles, California
Saturn Vue
Replacing the existing plastic-bodied Vue, you might recognize this all-new, all-metal update as the Opel Antara that debuted at the Paris show in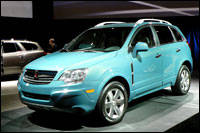 2008 Saturn Vue (Photo: John LeBlanc, Auto123.com)
October. Saturn says no other vehicle in the segment will offer as wide a range of engine choices. Saturn's new compact SUV will arrive next fall in XE, XR and Red Line trim levels with a four-cylinder and two six-cylinder choices mated to six-speed automatic transmissions with all-wheel drive available with the sixes. A five-speed manual transmission will be available later on. Later in the 2008 model year, Saturn also confirmed that it would continue to offer the Green Line hybrid version of the Vue using the existing model's 164 horsepower 2.4-litre four-cylinder light-hybrid system.
Saturn Aura Green Line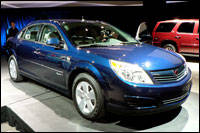 2008 Saturn Aura Green Line (Photo: John LeBlanc, Auto123.com)
Continuing Saturn's product push, the recently introduced Aura, will now add a hybrid version to its existing four- and six-cylinder engine options. Basically a transplant of the light-hybrid system found in the existing Vue Green Line, (see above) Saturn boasts a 25% decrease in fuel consumption over the four-banger gas Aura. According to Saturn, the Aura Green Line is the first of four hybrids GM will introduce in the 2007 calendar year, more than any other manufacturer.