We already knew Mercedes-Benz had plans to market its new A-Class hatchback here; now we get confirmation that the sedan version of the small car will be right on its heels in Canada.
The four-door version of the A-Class will get its official unveiling this fall during the Paris auto show. It will be essentially the same as the hatchback, except for not having... the hatch.
We can't help but remark on the fact that, amid a global trend among manufacturers to move away from sedans in favour of SUVs, Mercedes-Benz continues to go its own way and dares to add a new four-door variant to its lineup.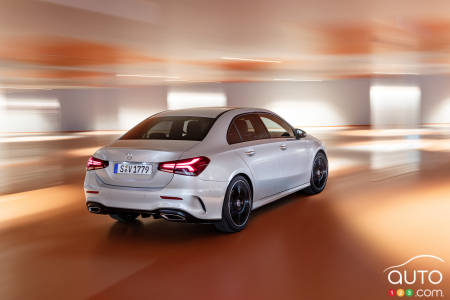 The contours of the A-Class sedan stay true to the Mercedes-Benz tradition and to other models currently produced by the German manufacturer. In fact when looking at it from a distance you could be forgiven for mistaking it for a C-Class. It takes getting up close or analyzing the photos to realize that it is in fact a fair amount smaller.
Not that the model doesn't have it particularities. The headlights, for instance, are quite different, as they are fully integrated into the chassis, and the front and rear spoilers provide the car with outstanding aerodynamics. We reported earlier this week, in fact, on its super-low coefficient of drag, leading Mercedes-Benz to proclaim it the most aerodynamic production car ever produced.
Our Canadian edition
The A-Class offered in Canada will carry the designation A220 and come fitted with a 2.0L 4-cylinder turbo engine. The 188 hp and 221 lb-ft of torque at its disposal place the sedan slightly behind the hatchback in terms of output.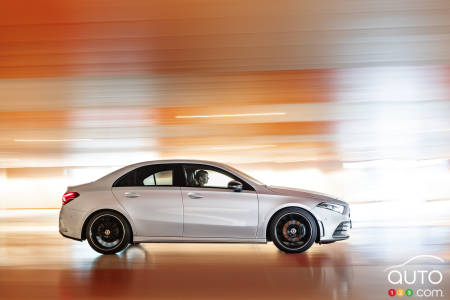 A 7-speed automatic transmission will be included as standard equipment, while all-wheel drive will be available as an option.
The base model A-Class sedan will come with some pretty impressive standard equipment. Of particular note are the LED headlights, panoramic roof and an automatic braking system, to name just those two. It will be fitted with standard 17-inch wheels but the manufacturer is offering the option to move to 18-inch wheels. There are several available options packages, each of which will serve to boost the asking price substantially, by the automaker's own admission.
We expect Canadian pricing to be made public once the model gets its official unveiling in Paris this fall.