As we reported a few weeks ago, the legendary Mitsubishi Lancer Evolution is back, and was unveiled this week at Tokyo Motor Show 2017. In fact, the Japanese automaker re-appropriated the name for a new concept called the Mitsubishi e-EVOLUTION.
As you can see, the new incarnation is no longer a sedan, but an SUV, and not just any old SUV: electrically powered, the new e-EVOLUTION features artificial intelligence technologies. The concept vehicle fits in with Mitsubishi's audacious and progressive new philosophy, whose slogan is "Drive Your Ambition." Along with this new strategy the company aims to increase its global sales by 30% in the next three years.
The design theme animating the Mitsubishi e-EVOLUTION is called "Robust & Ingenious." The company has committed to positioning itself at the cutting edge of styling and technology, while reinforcing its heritage of producing all-wheel drive performance vehicles. These twin focuses help explain the concept's radical silhouette, muscular and athletic stance, and the new interpretation of the Dynamic Shield design of the grille, not to mention the hexagonal shape of the vehicle's rear section, inspired by the Mitsubishi Pajero utility vehicle.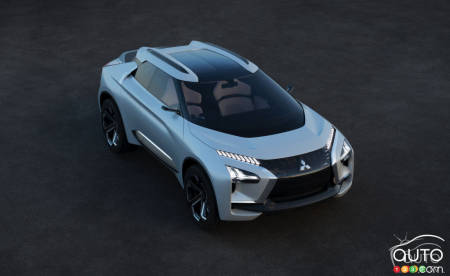 These innovations are made possible by the adoption of a fully electric powertrain. The combustion engine has been replaced by three electric motors (one in front and two in back) that supply increased torque, actively distributed via Mitsubishi's exclusive Super All-Wheel Control (S-AWC) system. The high-capacity battery is placed mid-ship under the floor in order to lower the centre of gravity.
The highly original interior includes a flat screen spanning the entire width of the cabin, which looks like a jet fighter's cockpit, especially as the windows provide a full, unimpeded view of the outside. As for the aforementioned AI technology, a number of sensors serve to detect changes in the road surface and levels and in surrounding traffic, but also to discern and anticipate the driver's intentions. Control of the vehicle is made easier and safer; a virtual assistant is even present to "coach" the driver as needed and desired.
How will the futuristic Mitsubishi e-EVOLUTION concept translate into a production model down the road? That's what we're dying to find out!