Montréal -
The sales downturn in the automobile industry doesn't intimidate Ford Motor Company of Canada president and CEO, David J. Mondragon. "Ford is very well positioned as we look at our business opportunities going forward", he told us last Thursday at the Montréal International Auto Show (MIAS) in an interview.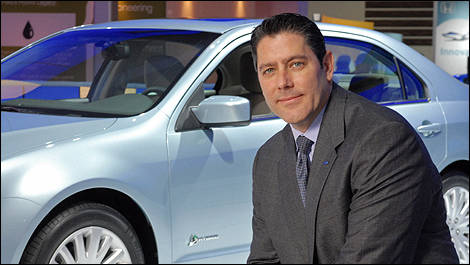 Ford Motor Company of Canada president and CEO, David J. Mondragon.
"The fourth quarter was a challenging one for Canada, the industry in total as well as the economy", says Mr. Mondragon. "In the fourth quarter, we saw the first real decline in automotive sales in the last few years. In November, the industry sales we down 10%, while Ford sales were up 1%. In December, the industry went down by 21% and Ford sales by 6%."
"Even though the industry had declined at a fairly rapid pace, our level of decline was far less than the industry. That caused our share to grow in the fourth quarter and gave us a lot of optimism as we look at the business going forward."
Ford Canada's New Boss
David Mondragon is still new in this job. He replaced Barry Engle last September. During his 23 years with Ford, Mondragon has held a variety of roles in sales and marketing. Before coming to Canada, he was serving as general manager for the Southwest Region, Ford's largest U.S. sales region.
This "product man" expects sales to decline in 2009, from 5 to 13%. Yet, based on the 2008 sales experience and the 2009 Ford line of products, he still expects a somewhat successful year for Ford.
"We have Seven new vehicles coming this year, two of which are « incremental » vehicles", products that will open new segments to the manufacturer. One of them is the
Lincoln MKT
. This luxury crossover shares the Ford Flex platform and will be assembled in the Ford Oakville plant, in Ontario. It will reach the market in late summer.
This summer also Ford will introduce the Transit Connect; a small van designed by Ford of Europe and built in Turkey. "This vehicle will allow Ford Canada to expend its footprint in the commercial vehicle arena," says Mr. Mondragon. "It's a small commercial application vehicle which really adds flexibility for many applications. It's got great fuel economy. It's a compact vehicle that is easy to maneuver in tight spaces. And it offers a lot of functionality the way it's design."
Fusion: a Camry-beater!
Mondragon says he's excited about the new Fusion mid-size sedan. "The I4 Duratec 2.5 engine offers better fuel economy than the Honda Accord and Toyota Camry. It will have class leading economy in its segment. The
Fusion Hybrid
will also give 14% better
fuel economy
than a
Camry Hybrid
and will be another class leading vehicle."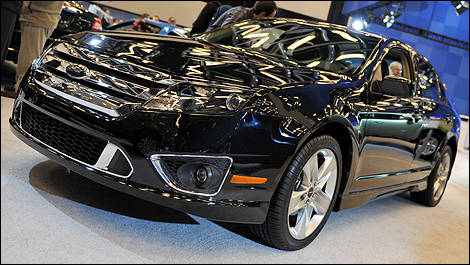 2010 Ford Fusion Hybrid