Over 9 millions worth of passion!
For many consumers, an auto show is first and foremost a place where passion meets reality: they get to experience part of their dreams. Their goal is not to shop for a new vehicle; they simply want to feed their passion and get a closer feeling of "what could be".
The organizers of the Montreal International Auto Show (MIAS) are aware of it. That's why they came back with the 7th Heaven exhibit, where most exotic and prestige cars are displayed under the same roof.
Ultra-high performance car enthusiasts and those fond of drop-dead gorgeous automobiles gather on level 7 of the
Palais des Congrès
to admire a host of four-wheel jewels from such brands as Aston Martin, Bentley, Ferrari, Lamborghini, Lotus, Maserati, Porsche and Rolls-Royce (see complete list on the next page). This year, Mercedes-Benz joined this exceptional exhibit by presenting the powerful SLR 722 coupe and the opulent Maybach 57 sedan.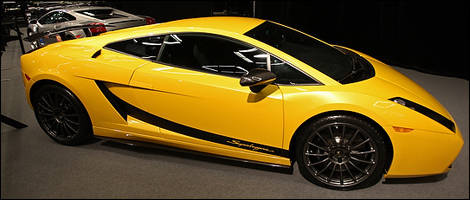 2008 Lamborghini Gallardo Superleggera
Like a throng of pilgrims, visitors stroll the narrow alleys of this automotive sanctuary. Young and old can't stop wondering: "how much do you think it's worth?" or "how many units were built?". Virtually everyone also wants to scream: "One day, it'll be mine!"
The goal of this exhibit is not to sell cars -- at least not directly. The 7th Heaven primarily serves to cultivate the fame of prestige brands. Umberto Bonfa, Ferrari's Sales Manager for Quebec, is quick to admit it: "This exhibit is very important, since it allows the general public to discover such brands as Maserati. For many, it's also a unique opportunity to get up close with legendary thoroughbreds like the Ferrari Enzo and ask questions to learn more about their history."
We ran into a young enthusiast who was making a list of all the models on display at the 7th Heaven to find out their combined worth. Did he plan to start a collection? We'll never know. Anyway, at the end of the tour, he told me, with his eyes wide open, that it would cost over 9 million dollars to purchase them all. "That's US dollars. And don't forget about taxes...," he said. "Better start saving," I jokingly replied.
The show's organizers had relied on a wealthy car collector to lend a Ferrari 250 GTO, a coupe that's suited both for the road and the track. Only 39 units were produced in the early '60s and its current value is estimated at more than 8 million dollars. Unfortunately, the car wasn't available. Taking its place is a humble F40 worth about $800,000.
As promised, the Ferrari Enzo is here. Created in 2002 as a tribute to the
Commandatore
, Enzo Ferrari, this collector's item is still considered as the best-performing machine since the McLaren F1. Legendary guitarist and singer Eric Clapton owns one, a yellow model with a 660-hp 6.0L V12 engine delivering 0-100 accelerations in 3.65 seconds. That's as fast as you can reach 7th heaven!