The new 2013 Ram 1500 will appear at the New York Auto Show this week, and on display to the public starting April 6, with new fuel-saving features and first-in-segment technologies.
Highlights include a more fuel-efficient, more powerful 3.6L Pentastar VVT V6 and 8-speed automatic transmission; stop-start system; thermal management system; pulse-width modulation and active aerodynamics including grille shutters and air suspension.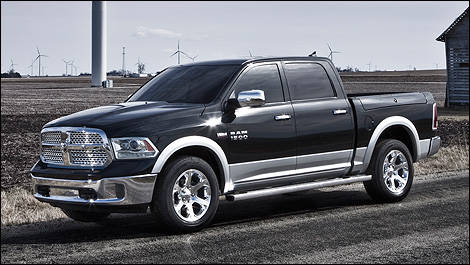 Photo: Chrysler
The new powerplant was named one of Ward's 10 Best Engines two years running and offers best-in-class 305 hp with 269 lb-ft of torque, for 42% more horsepower, 11% more torque and 8.4% better fuel economy than the previous 3.7L V6.
A 5.7L HEMI V8 with cylinder cut-off and VVT offers 395 hp, 407 lb-ft of torque and 20% better fuel economy than the 2012 V8 powertrain.
The new 8-speed automatic (with 100% more gears!) is standard with the V6 and will be available later with the HEMI.
The stop-start feature is a first for a pickup, and improves fuel economy by about 3%, an increase of 3.78L/100 km to its city driving.
2012 Ram 1500