As reported by The 2011 Vancouver International Auto Show
VANCOUVER, B.C.
– The 2011 Vancouver International Auto Show launched its second-annual Dream Car Lottery today, which will award one lucky ticket buyer with a brand-new 2011 Mercedes-Benz SL550 convertible while raising funds for various charitable, non-profit and sport organizations supported by the New Car Dealers Foundation of BC.
This year's "Dream Car" – the iconic Mercedes-Benz SL550 convertible – is valued at more than $145,000, and renowned within the industry for not only its speed, but also its superior handling. With 382 horsepower, the SL reaches 60 mph in a mere 5.3 seconds.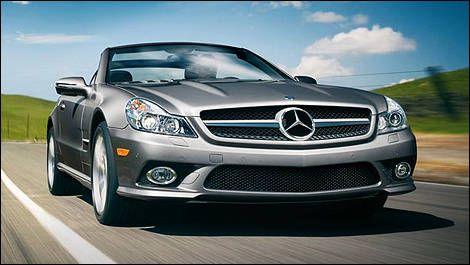 Photo: Mercedes-Benz
"After a highly successful inaugural year in 2010 where the Vancouver International Auto Show made history as the first major Canadian auto show to formally integrate a licensed lottery into its marketing strategy, we're thrilled to once again offer one British Columbian the chance to own an ultimate 'dream car,'" said Blair Qualey, President of the New Car Dealers Association of BC and Director of the New Car Dealers Foundation of BC. "Community involvement is a cornerstone of operations for member dealers across British Columbia and we are excited to utilize the Foundation's lottery proceeds to support Special Olympics BC and other great educational and community efforts."
Part of the Lottery proceeds will benefit Special Olympics BC, which will receive a vehicle to help further the organization's work to provide individuals with intellectual disabilities with opportunities to enhance their life and celebrate personal achievement through positive sport experiences.
"The New Car Dealers Foundation of BC has been instrumental in helping further the goals of Special Olympics BC, having helped us raise more than $3.4 million since 1984," said Christina Hadley, VP, Fund Development and Communications, Special Olympics BC. "With partial funds raised as part of the 2011 Dream Car Lottery, we are able to look forward to a new vehicle that will help us expand our reach across the province."
Tickets for the Dream Car Lottery are now on sale and are $20 each, or four for $50. Tickets can be ordered online at
www.VancouverInternationalAutoShow.com
until March 28. Tickets are then available on site only at this year's 91st annual Vancouver International Auto Show. Ticket buyers who purchase their tickets prior to March 7, 2011 will also be entered into an Early Bird Prize Draw for the chance to win a VIP experience package to the 2011 Monaco Grand Prize, valued at approximately $10,000. The Dream Car Lottery draw will occur on April 3, 2011.
For more information on the 91st annual Vancouver International Auto Show, or the Dream Car Lottery, including full contest rules, visit
www.VancouverInternationalAutoShow.com
.