As reported by Subaru
Subaru
's presence at the 80th Geneva International Motor Show will feature a number of technological and environmentally friendly innovations, including a revolutionary 'Boxer'-hybrid concept vehicle and a pure-electric city car.
HYBRID TOURER CONCEPT
Featuring the world's first 'Boxer'-hybrid powerplant and Symmetrical All-Wheel Drive (AWD), the
Hybrid Tourer Concept
will make its European debut at the Swiss expo. The striking show car marries Subaru's design DNA with an opulent and spacious cabin accessed through elongated gullwing-style doors, and an eye-catching, sculpted body.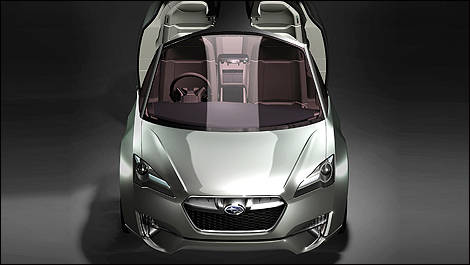 Subaru Hybrid Tourer Concept (photo: Subaru)
The absence of B-pillars affords a heightened sense of light and space to the interior, providing occupants with a less obstructed view of the outside world. The swept-back panoramic windscreen and a height-adjustable dashboard afford the driver a similarly unhindered vantage point.
The innovative hybrid system uses Symmetrical All-Wheel Drive and a 2.0-litre horizontally-opposed,
direct-injection
, turbocharged petrol 'Boxer' engine, allied to two electric motors – Subaru remains the only company to mate this engine layout to a hybrid drivetrain. The electric motors are powered by lithium-ion batteries – a 10kW item at the front and a 20kW unit at the rear.
In normal driving conditions the direct-injection petrol engine is used, but at lower speeds and start-up, the rear electric motor drives the car. The forward electric unit, which is mainly used as a power generator, kicks in to assist performance and efficiency while tackling inclines. Subaru's in-house designed Lineartronic automatic transmission is featured, further boosting fuel efficiency and driving performance.
STELLA EV
Continuing the 'green' theme, Subaru will be showcasing its Plug-in STELLA EV. The lithium-ion battery-powered, 90km-per-charge, 40kW, electric vehicle can be recharged up to 80 per cent of its capacity in about 15 minutes when using its quick charging system. Under normal circumstances the city car is fully rechargeable in five hours when using an AC240V power outlet.

'BOXER' DIESEL TECHNOLOGY
Visitors to the Japanese manufacturer's stand will also be able to take in a number of 'Boxer'-diesel model displays, highlighting Subaru's unique Horizontally-Opposed engine technologies. Impreza, Forrester, Legacy and Outback models are all currently available with the unique-to-Subaru 2.0-litre diesel engine configuration, which offers both improved fuel economy and a low centre of gravity.
With these exhibits and throughout the entire show stand design, Subaru will be showcasing its efforts to integrate enjoyable and reliable driving with environmentally friendly motoring solutions.
photo:
Subaru