After skipping Montreal to focus on the Detroit Auto Show last January, Tesla Motors is dropping by the 2014 Quebec City Auto Show with the much talked-about Model S to court electric car enthusiasts from La Belle Province... and feel the pulse of the Quebec City market.
Legions of visitors are expected to surround the car and admire it from every angle, with many of them seizing the opportunity to test drive a unit at the show as part of the CAA-Quebec road tests. While range anxiety usually affects potential EV buyers, they flash a big smile when they learn that the Model S can cover up to 370 or 480 kilometres on a full charge depending on the battery.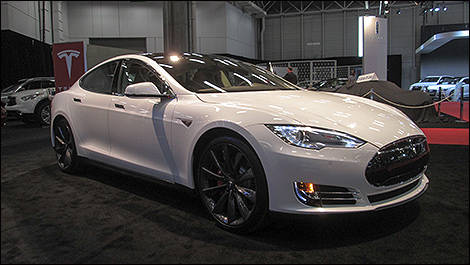 Photo: Guillaume Rivard
Judging by its formidable sales growth -- Tesla forecasts a 55% gain in 2014 -- and the expansion of its Supercharger network that will connect Toronto with Quebec City starting this summer, it's only a matter of time before the
innovative company
breaks ground in the province's capital.
"The greater the demand across Quebec, the more likely we are to have a second store/showroom or service centre," said an enthusiastic Martin Paquet, regional sales director at Tesla Canada, referring to the one already established in the Montreal area (Laval).
The fast expanding electric car maker now has four stores and galleries, as well as four service centres, across Canada -- and nearly 60 stores and service centres worldwide, with more than 50 new facilities set to open in the next few months (mostly in Europe), including a service centre in Calgary.
As reported last month, the buzz around the Tesla Model S in Quebec City is such that a local taxi owner, Christian Roy, will soon take delivery of the very
first Tesla taxi in North America
.
The launch of a third Tesla model that's smaller and more affordable ($30,000-$40,000) around 2017 will certainly cause the brand's popularity to explode.
Simply put, Tesla is one to keep a close eye on, so don't miss your chance to see it and even try it out at the 2014 Quebec City Auto Show.