New York City; where walking down the street dressed as a normal person will make you feel severely underdressed most of the time, is usually host to some fantastic reveals befitting the city's high-fashion nature. For 2014, it didn't hold true, unfortunately, as mediocrity invaded the Jacob Javits Center for two full press days of boring reveals.
While there is definitely plenty to look at, and even some very interesting future product (if you are into midsize bland mobiles and minivans), there is an equal number of easily avoided mishaps and other exhibits that give you a certain metallic taste at the back of your throat.

Ford Focus Refresh
What do you get when you attach the grille from the much-lauded Ford Fusion to the front of a Focus? This. And it's boring. Ford has been slowly taking all the visual excitement out of the Focus (my favourite is the previous generation Euro-only version) and turning it into a rolling paper bag of anonymity. You'd think the nose job, since the Fusion is such a looker, would do the Focus wonders. But it doesn't. It's now the design equivalent of oatmeal. In a beige bowl. On a Formica countertop.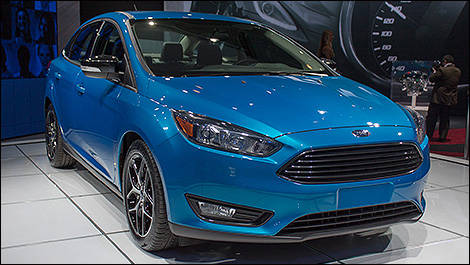 Photo: Mark Stevenson