As the final stop on the Canadian auto show tour, the 2011 Vancouver International Auto Show will take place from March 29 to April 3 at the Vancouver Convention Centre. Visitors will be able to admire the latest models and innovations from the world's top automakers.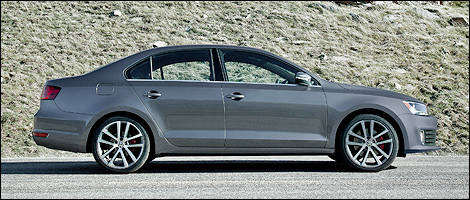 2012 Volkswagen Jetta GLI (Photo: Volkswagen)
This year, one of the showstoppers will be the all-new 2012 Volkswagen Jetta GLI, which is making its debut on Canadian soil.
Available in May, the car is powered by a 2.0-litre, 4-cylinder turbocharged engine mated to a 6-speed manual gearbox. It also features a fully-independent sport suspension, an electronically-controlled XDS cross differential system, four-wheel disc brakes and a more upscale interior.
Special attractions and contests are on the menu as well. Fans can enter to win the Ultimate Barrett-Jackson Experience in Las Vegas (valued at over $3,500) or a VIP trip to the renowned Bridgestone Racing Academy at Mosport International Raceway in Ontario.
Here's a short list of vehicles you don't want to miss:
2012 Lexus LFA
2012 Toyota Prius V
2012 Range Rover Evoque
2012 Ford Mustang Boss 302
2012 Chevrolet Sonic
2012 Chevrolet Orlando
2012 Chevrolet Volt
2012 Buick Verano
2012 BMW 6-Series Convertible
2012 BMW X1
2012 Hyundai Veloster
2012 Hyundai Accent
2012 Scion iQ
2011 BMW M1
2011 Kia Optima
For additional information about the show, check out the official website.
http://vancouverinternationalautoshow.com/