As of late, General Motors has been working to revamp their main family haulers, focusing more on large crossovers than traditional mini-vans. The significant sibling-products of this change include the Buick Enclave, GMC Acadia, Saturn Outlook, and now, as seen at the Vancouver International Auto Show, the 2009 Chevrolet Traverse.
Although some may accuse GM of 'badge engineering' once again, the dissimilarities stem much further than the logo exhibited on the grille; each of these four vehicles has its own flavour, even if they have the same spirit. Spiriting the 2009 Traverse is the familiar 275 horsepower 3.6-litre V6 engine mated to a six-speed automatic transmission and front- or all-wheel-drive.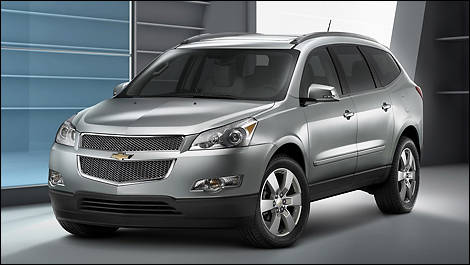 2009 Chevrolet Traverse.
If not given eight-passenger configuration, this spacious family crossover can treat second-row passengers to optional captain's chairs and even their own sunroof. Aiding the Traverse's driver is a rear view camera conveniently built into the rear view mirror. Outside, optional 20-inch wheels are highlighted along side Camaro-esque taillights. Arriving this fall, the only hitch may be disappointing real world consumption of regular-grade fuel.
On the other end of Chevrolet's spectrum in the sub-compact segment is the 2009 Aveo5. A few tweaks to the car's headlights, grille, and bumper have transformed the Aveo5 from bland to pleasantly violent. The new look should attract a younger crowd, and make them feel better behind the wheel. The Aveo5 can be had with an array of interesting colours. Inside, there is an almost-prerequisite auxiliary audio input and CD player with optional MP3 capability.
The 2009 Aveo5 is powered by an economical 1.6-litre four cylinder DOHC engine with variable valve timing, producing 107 horsepower and 106 lb.-ft. of torque. A five speed manual transmission remains the more entertaining option compared with the four speed automatic. Helping to ease parent's worries are standard front and side airbags, but be sure to opt for the available anti-lock braking system.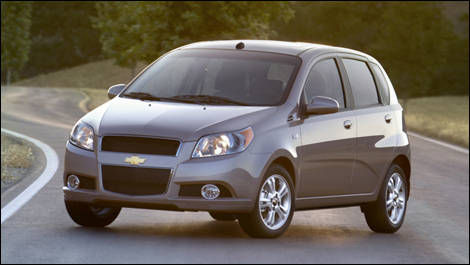 2009 Aveo5.