The 91st annual Vancouver International Auto Show (VIAS) roared into the new Vancouver Convention Centre on the water's edge in downtown Vancouver. With 400 cars on display, the VIAS has earned the title of Canada's third largest auto show, and this year the theme is all about emerging technology.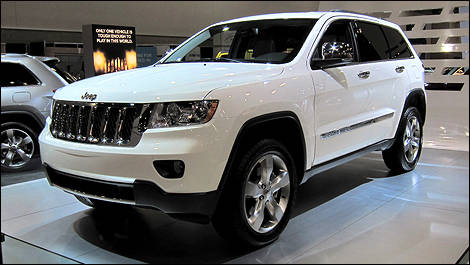 Photo: Rob Rothwell/Auto123.com
On display for the public's inspection and "tire kicking" validation are the most efficient and technologically advanced vehicles in history. But heart-stopping performance machines and breathtaking exotics were equally prominent on the vast convention centre floor.
The day started with a most intriguing discussion on the emergence of electric vehicles at the Electric Breakfast, hosted by the New Car Dealers Association of BC. The knowledgeable panel included Ian Forsyth, Director of Corporate & Product Planning for Nissan Canada; Tomoki Yanagawa, Vice President of Sales and Marketing for Mitsubishi Canada; and Kip Morrison, Chief Technology Officer for BC Hydro.
The future of electric vehicles (EVs) in Canada is a bright one, and we Canadians have plenty to be charged about, such as an abundant supply of inexpensive, predominantly green-sourced electricity to power the EVs of today and tomorrow.
At 9 am sharp, with breakfast behind us, the doors opened and a throng of journalists headed into the hall to document the unveilings and to peruse this year's assemblage of all things on four wheels.
Chrysler started the parade of unveilings by proudly informing us that they now offer sixteen new or redesigned vehicles, with two of them ranking among the top three sellers in Canada; the Grand Caravan minivan and the Ram truck. They also spoke of price reductions and expanded content lists for the
Grand Cherokee
and the
Chrysler 200
and
300
variants.
Before wrapping up, Chrysler unwrapped a pair of Fiat 500s. They had two of these youthful versions of the much-romanticized Italian icons on display.
Next, it was onto the world of Toyota where Stephen Beatty talked about the inclusion of six safety features as standard equipment on all Toyota products. With less talk and more action, the sheet was pulled from the new Prius V, which is a larger version of Toyota's hybrid vanguard that provides 50% more cabin space over the conventional Prius. Stephen also cited a series of new formats and powertrains slated for the Prius while its range of configurations continues to expand.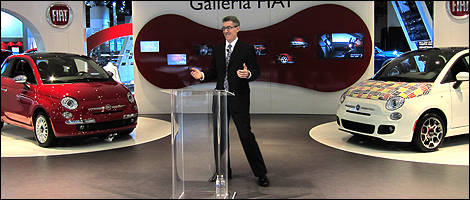 Photo: Rob Rothwell/Auto123.com