As evident here at the Vancouver International Auto Show, General Motors has been using its international ventures to better business in North America. Although built alongside the Chevrolet Aveo and Pontiac Swift by GM Daewoo in South Korea, the Pontiac Wave has been sold here as a Canada-specific model since 2005. And, like the new Aveo5, the 2009 Pontiac Wave5 has received a significant make-over.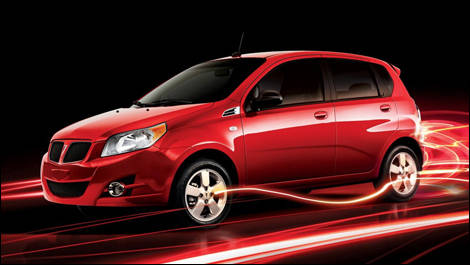 2009 Pontiac Wave5
The 2009 Wave5 uses a 1.6-litre four cylinder DOHC engine that betters fuel consumption by 8 percent while producing more power: 107 horsepower and 106 lb.-ft. of torque. This forward energy is routed to the front wheels via a five speed manual or four speed automatic transmission. Front and side airbags are standard, as is an auxiliary audio input jack (MP3-playing capability by the CD player is optional).
The Pontiac G8 on display also shares international roots, being built by GM Holden's Adelaide plant in Australia. As a potent rear-wheel drive sedan, this is a massively important new product for Pontiac. The standard V6 G8 isn't given a downgraded appearance, even featuring the same 18-inch wheels as the 6-litre V8 G8 GT; however, the G8 GT offers more performance bliss with bigger brakes, 362 horsepower, and 391 lb.-ft. of torque. This power will be routed through a limited slip differential via a six-speed (one more gear than in the standard G8) automatic transmission until an optional six-speed manual transmission appears later.
If the G8 GT isn't enough, Pontiac has also stuffed the Corvette's 402-horsepower V8 into the G8 GXP. Only lacking the option of a navigation system, the G8 is a modern performance product that validates Pontiac's sports-oriented marketing.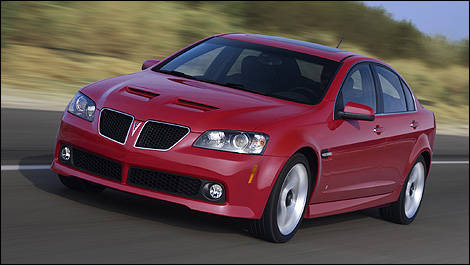 2009 Pontiac G8 GT
photo:
General Motors, Rob Obara