The Montreal Auto Show has every car aficionado dreaming. Standard cars are obviously legion, grouping the latest and most important offerings on the market. Same story for the exotic cars occupying 7th Heaven, where Aston Martins vie for the spotlight alongside Lamborghinis, Ferraris and assorted Porsches and Maseratis.
But there's nothing better than antique cars originally preserved to catch the eye. And when these cars doff their hats, as is the case of the superb collection of 1950 convertibles at the Auto Show, car buffs are nostalgically transported back in time.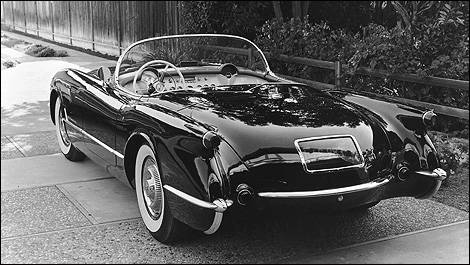 1954 Chevrolet Corvette
Of the 10 convertibles in 7th Heaven, some have literally made history or fired the imagination. The
1955 Chevrolet Bel Air
, for instance, is one of the best preserved specimens of the car, one of the brand's most popular at the time.
Also noteworthy is the presence of the Ford Fairlane 500 Skyliner, a mechanical marvel with its retractable hardtop that was a true breakthrough in 1958.
Others are just as famous for their significance or their design. It's the case of the 1954 and 1957 Chevrolet Corvettes, two automotive gems restored according to the original requirements and the value of which surpasses 250 million dollars each.
The ultimate full-size luxury cars with their imposing dimensions and still eye-catching design, the
Cadillac
Eldorado Biarritz is the brand's heritage, while the Cadillac Series 62 version (a 1956 model here) is directly inspired from the car used by
American president Eisenhower
at his nomination ceremony in 1953.
No visit would be complete without a peek at the Pontiac Star Chief, the Mercury Monarch Lucerne and the Mercury Montclair, true collector's pieces restored in accordance with the standards of the time.
This collection of 1950 convertibles is one of the largest ever gathered in a Canadian auto show.
photo:
General Motors