In order to demonstrate the effectiveness of MotoMaster Eliminator batteries in extreme cold, Canadian Tire recently used one to power a 2005 Chevrolet Silverado built out of more than 11,000 pounds of ice in Hensall, Ontario.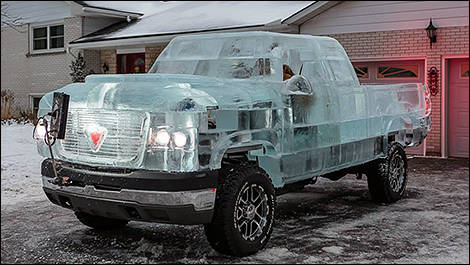 Photo: Canadian Tire
The body, mirrors, grille, and licence plate were all made of ice. The truck managed to drive 1.6 kilometre at an average speed of 20 km/h in the city's streets.
The battery had previously been kept in a freezer at a temperature of -40 degrees Celsius, then fitted to the vehicle.
It will go into the Guinness Book of World Records as the ''first rolling ice structure.''
Source : Canadian Tire