Latest Pre-Owned Vehicle Articles

Jaguar has released the first official picture of its all-new 2015 XE compact luxury sedan, which will make its debut in London this September before strutting its stuff in Paris a month later.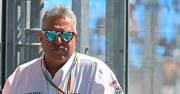 Vijay Mallya's Sahara Force India Formula 1 team currently lies 5th in the constructors' standings with 98 points, ahead of some pretty strong rivals such as McLaren, Lotus and Sauber.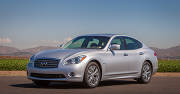 The 2014 Infiniti Q70 Hybrid is a premium midsize sedan with elegant styling full of sensual lines. It also offers a comfortable, classy, and convenient interior with modern flair. On ...
Most Popular Models
List of the most popular cars on Auto123.
Cars: Past & Present
Looking for an actual car model or an old one? Search no more, click on one of the links below to directly reach the model you are looking for.