Ram Cars Canada

The Ram Truck brand represents Chrysler's line of pickup trucks, previously sold under the Dodge nameplate. Since the '70s, the Ram name is synonymous with muscle and toughness, as evidenced by the brand's Ram head logo.

The Ram name was first used on Dodge's full-size SUV back in 1975, which was actually called the Ramcharger. Then, in 1979, Dodge's full-size passenger and cargo van line-up was renamed Ram Van and Ram Wagon.

Dodge's D-Series pickups, totally redesigned in 1981, also became known as the Ram. It offered a 3.7-litre V6 and two V8s displacing 5.2 and 5.9 litres. That same year, the 4-cylinder compact pickup sourced from Japanese manufacturer Mitsubishi and sold under the Dodge brand was renamed the Ram 50; it was available until 1993.

Creating a brand-new niche in 1987, Dodge launched the Dakota mid-size pickup. Many different versions appeared, such as the Dakota Convertible as well as a V8-powered Shelby Dakota, which at the time was pretty powerful, since the Dakota was normally offered with inline-4 and V6 engines.

In 1989, a 5.9-litre turbodiesel inline-6 provided by Cummins was offered in heavy-duty versions of the Ram pickup, producing 160 horsepower and 400 pound-feet of torque. A major redesign of the Ram pickup occurred in 1994, and an 8.0-litre V10 engine was added to HD models, serving up 300 horsepower and 450 lb-ft.

The Dakota received its first redesign in 1997, and a year later, offered the 5.9-litre V8 in a sporty R/T trim, while four-door models appeared in 2000.

A brand-new Ram was introduced in 2002, touted as "the new mayor of truckville". The 5.2-litre V8 was replaced by a 4.7-litre unit at launch, and Chrysler's notorious 5.7-litre HEMI was introduced in 2004 in replacement of the old 5.9-litre V8.

A high-performance Ram 1500 SRT-10, equipped with a 510-horsepower, 8.3-litre V10 borrowed from the Dodge Viper, was offered from 2004 to 2006. The Mega Cab version was added in 2006, and a year later, the Cummins turbodiesel engine grew to 6.7 litres, now producing 350 horses and 650 lb-ft.

Meanwhile, the 3rd-generation Dakota was introduced in 2005, again with a choice of V6 and V8 powerplants, and received a facelift for the 2008 model year. The latest generation of the Ram 1500 was launched in 2009, while the heavy-duty 2500, 3500 and chassis-cab models received a 2010 makeover.
[...]

Read more about Ram
---
Follow @auto123_ram
---
Ram Trucks
---
---
Ram Coverage
Latest Reviews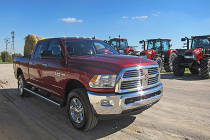 I Say
n/a
"Give me 40 acres and I'll turn this rig around" or so the song goes. With apologies to Chrysler (and the Willis Brothers) the 2014 Ram 3500 isn't quite that big -- but it sure feels that way.
---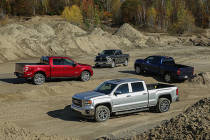 I Say
n/a
Pickups are the backbone of North America. Pickups could be credited as being the most instrumental tool that built both the modern US of A and Canada. Their importance on our automotive landscape is paramount.
---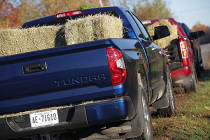 I Say
n/a
A majority of pickups are purchased for their abilities or better yet, their capacities. It would be pointless to evaluate these trucks without giving them something real to do. Before I go on about how these truck fared loaded and with a trailer, consider the sheer importance of these trucks in the automotive business world.
---
Latest News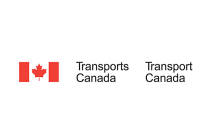 Thousands of vehicles within the Chrysler family are affected by a new series of recalls.
---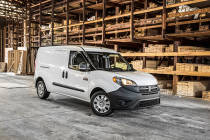 Based on the FIAT Doblò, the new 2015 Ram ProMaster City is a compact cargo van that will expand the company's commercial vehicle portfolio and market share. It also marks the world's first commercial-van application of a 9-speed automatic transmission.
---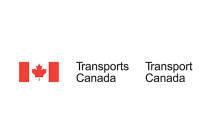 Chrysler Canada is recalling 2,430 Ram Promaster vans from 2014 because water ingress around the in-floor battery cover and door footwell trim could cause electrical circuit corrosion, potentially causing the engine to stall and disabling the airbags, turn signals, parking, stop and/or reverse lamps.
---
Latest Pictures
---
Latest Videos