Remember that girl in high school? The one who was ridiculously attractive, even before it was legal to think she was, and the one who all the boys wanted to date, but no one knew how to approach? She was untouchable, and oh so pretty. Everyone (even the girls who secretly hated her for her beauty) held her in high regard. Everyone wanted to be near her, to get to know her.
Then she'd open her mouth to talk.
Although still viewed as attractive, her allure was suddenly dulled. Knowing the vacant space behind those pretty little eyes kind of changes the aura surrounding the hot girl. Sure, you'd still take her to the dance, but you just hope she'll keep her mouth shut so as not to bore you.
And such is the case with the 2015 Lexus RC 350 AWD. Oh so very pretty on the outside; yet rather vacant on the inside.
She's got the look
From the moment I laid eyes on the new Lexus RC I fell a little bit in love. So far removed from the standard Lexus look was this new coupe that it actually made me catch my breath a bit. And it's a Lexus. Not since the LFA has a car from this manufacturer made me stop and take note.
From the signature spindle grille to the dual-level headlights, fully functional air ducts integrated into the front bumper, and highly sculpted sides and rear, the 2015 Lexus RC is seriously stunning.
The added F SPORT package on my tester featured 19" mesh alloy wheels that really gave the RC 350 AWD some character. The rear quarter panel angle might be my favourite, with the stylized vents integrated into the rear bumper (not functional, purely aesthetic), dual oversized exhaust tips, and modular, aggressive rear lights. Just gorgeous.
Inside the level of attraction diminishes just a bit, and here's why: The dash looks as if it were literally just thrown together. There are too many layers/edges/different materials. It's like Lexus engineers thought it would be fun to put a game of JENGA on the dash. Very odd. Also, that trackpad… I just can't. I'm not going to repeat myself, so just go and read my Lexus NX 200t for the full rant.
The 2015 Lexus RC catches my eye every time I see it on the road, and I don't think that will change any time soon. It is, most definitely, one of the best looking cars on the road today.
And that's about it.
She's got no soul
OK, so here's where it all goes very much downhill for me. I wanted the 2015 Lexus RC 350 AWD to excite me. I wanted it to do what the IS F did for me (to a certain extent). I wanted it to feel sporty and alive. It was none of that.
The RC 350 AWD feels heavy; heavy in corners, heavy under hard acceleration, heavy to stop, just heavy. Even in Sport+ (available on F SPORT packages) drive mode, which is supposed to feature Adaptive Variable Suspension (which is supposed to automatically adjust damping on all four wheels dependent on the driver's habits) I still felt the RC 350 leaning far too much into any corner I threw it into.
The 6-speed automatic transmission is functional and performs accordingly (though I prefer the 8-speed lifted from the IS F found in the RWD version of the RC), but again offers nothing in terms of interest or intrigue. Hard downshifts with the paddle shifters illicit nothing more than a muted grunt from the 3.5L V6, and I often found myself leaving it to shift itself just because I knew I wouldn't get the feeling I'd want in the end.
With 307 horsepower on tap (and 276 lb-ft of torque), the 2015 Lexus RC 350 is no slouch. Sure, it'll get up and go when asked, but it's not about to light your pants on fire. The AWD set-up adds a level of stability, but also adds to the weight of the car, no doubt one of the reasons it felt so heavy.
Can it survive on looks alone?
Strangely enough, I think it can. Lexus has done something with the RC, and has engineered a car that looks so far removed from its norm that new buyers will be drawn in. However, they've also managed to keep the Lexus "feel" alive when behind the wheel (subdued, controlled, and a bit ho-hum) in order to maintain their core consumer's interest. Not a horrible plan, actually.
With vehicles like the Audi A5 and brand new BMW 4 Series in the same segment, for those who like a little excitement behind the wheel, I'm afraid the Lexus will have to bat its LED lashes at someone else.
Road Tests and Reviews

Experts

Consumers
2015 Lexus RC 350 AWD F SPORT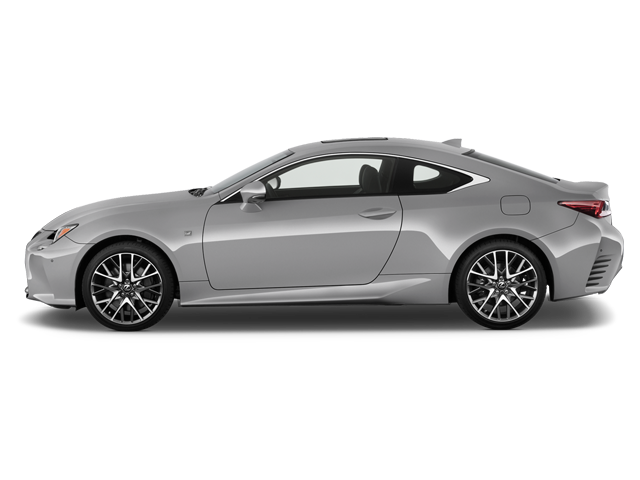 2015 Lexus RC 350 AWD F SPORT