Bromont, QC -- Our winters suck. There's no other way of putting it, no eloquent words to properly describe it. Winter is long, cold, and full of too much snow. Here in Eastern Canada we do what we can to survive these wretched 6 months (roughly) of gross weather and even worse road conditions. And while all-wheel drive isn't an obligation around here, it sure is nice to have and I defy anyone who's ever driven an AWD vehicle in the winter to go back to FWD afterwards. You just can't do it.
So, when a company like Mercedes-Benz answers the need of its cold-weather customers by offering all-wheel drive in nearly every class of its vehicles, those winter-dreading consumers are bound to pay attention.
Most notably, the 4MATIC technology has trickled down to the first rungs of the Mercedes ladder and is now available on the new CLA and updated B-Class. While I drove both on the same event, I'm going to focus on the B 250 4MATIC as I think the introduction of the AWD system has made this model all the more relevant to buyers.
Much improved
I wasn't particularly nice to the B-Class the last time I drove it, and with good reason. It felt cheap, the drive was sub-par and I saw it simply as a way to park the Mercedes-Benz crest in your driveway when your money could have been better spent elsewhere on a domestic or Japanese brand that would have offered better quality.
No, this time when I got behind the wheel of the 2015 Mercedes-Benz B 250 4MATIC I was actually impressed. And it's not just the "4MATIC" badge on the back that's made all the difference (and I'll get to that in a moment). No, Merc did some clever revamping of the interior, most notably adding a new chunky, sporty steering wheel that's fantastic to hold and functional as well.
They increased the size of what was once a flimsy in-dash display screen. It's now 7" and actually looks solid, not like it's about to fly off the dash if you accidently knock it (and there's even an optional 8" version). New chrome bits have been added as well as the ability to scroll through 12 different colours for interior ambient lighting.
An AMG package is available on the B 250 4MATIC that ups the aesthetic ante with AMG front and rear lips, lowered suspension, 18" AMG twin 5-spoke wheels, and dual exhaust in the back.
B-ehind the wheel
Mechanically, the 2015 is unchanged from the previous model. It still features a 2.0L in-line 4-cylinder turbocharged mill that produces 208 horsepower and 258 lb-ft of torque. Coupled with a 7G-DCT automatic transmission and Mercedes' 4MATIC all-wheel drive, the B 250 is a highly capable little car.
From icy slalom course to snow-covered country roads that twisted, turned and undulated, the 2015 B 250 4MATIC handled them all with aplomb. I was pleasantly surprised at the ride comfort offered in the AMG-packaged B-Class I piloted for the day. Despite the lowered suspension setting, the ride wasn't at all jarring and instead remained taught and controlled where I need it to be, and relaxed on the open road.
Let's talk about the 4MATIC system for a moment; with fully variable torque distribution between the axles, the system can send necessary torque to the front or rear or even maintain a 50:50 split. In "resting" state the system is front-wheel biased.
With everything activated the system is pretty impressive and not at all invasive. Unlike some electronic systems that kill power and dumb down throttle response in sketchy conditions, Merc's 4MATIC works with you instead of against you. While you can feel the various elements working (ABS kicking in, power being sent to which wheel as the one with grip catches) it's not at all intrusive.
4MATIC for all
Why do I think the introduction of 4MATIC will make such a difference in the popularity of the B-Class? Well, I think it was missing that certain something that made it a more attractive option -- something more than the crest on the grille -- than the competition.
The availability of all-wheel drive (which brings the base price of the B 250 up to $33,800) means the B-Class has just upped its street cred where safe driving in the winter months is of the utmost importance.
Road Tests and Reviews

Consumers
2015 Mercedes B-Class B 250 4MATIC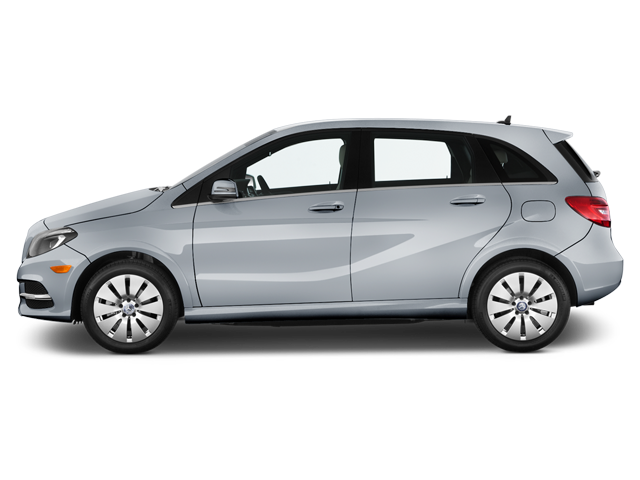 2015 Mercedes B-Class B 250 4MATIC