New Acura Cars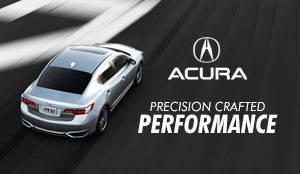 Acura Canada
The Acura brand represents an image of performance, luxury and quality, despite lacking the prestige factor of the German premium brands. Acura nonetheless offers a complete range of sedans, SUVs and crossovers that benefit from a high resale value.
In 1986, the Acura Automobile Division, a new brand that would cater to the growing sports/luxury vehicle segment in North America was introduced by Honda. Their first vehicles included the compact Integra hatchback and the mid-size Legend sedan, the latter boasting Honda's first V6 engine. Acura's first slogan was very indicative of the brand's direction: "Precision crafted performance".
The second generations of the Integra and the Legend appeared in the early '90s, while a new flagship model was added to the line-up. In 1991, the NSX was launched in North America to critical acclaim, using technology Honda gained through their F1 racing program. The mighty NSX was sold up until 2005, and is still considered as the greatest car Honda has ever produced.
In 1994, the 3rd-generation of the Integra appeared and carried on largely unchanged up until 2001, outlasting the usual production cycle of four or five years.
The year 1995 marked the brand's strategy to identify the cars as Acuras instead of Legends and Integras, renaming each model with an alphanumerical designation.
In the second half of the '90s, new models appeared such as the full-size 3.5RL, the mid-size 2.5TL and 3.5TL, the 2.2CL and 3.0CL coupes, the 195-Integra Type R as well as the US-only SLX sport-utility, essentially a rebadged Isuzu Trooper. Acura Canada also welcomed the exclusive 1.6EL sedan, a more luxurious version of the Honda Civic.
In the early '00s, the unloved SLX was replaced by the homegrown MDX, the CL coupe was also redesigned and the much-loved Integra was replaced with the RSX, more refined and a tad less sporty. Acura Canada's entry-level model also received a redesign, becoming the 1.7EL, and eventually was renamed simply as the EL.
New models were launched from 2004 to 2006. The new TL, boasting high levels of power, luxury and handling, quickly became a benchmark in its segment. The RL sedan appeared, now offering all-wheel drive. The 4-cylinder TSX arrived with great handling and a luxurious cockpit, while Acura Canada offered the CSX compact sedan in replacement of the EL.
Acura launched the current MDX sport-utility in 2007, alongside the RDX, a compact-sized crossover powered by a 240-horsepower 4-cylinder, the first turbocharged engine in Honda's North-American history. The latest TSX and TL sedans appeared in 2009, while the ZDX crossover was introduced in 2010.
Discontinued Acura models