New Infiniti Cars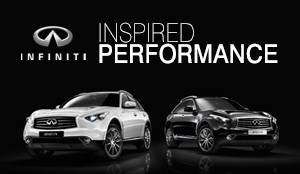 Infiniti Canada
Infiniti is Nissan's luxury division, which includes a line-up of cars, crossovers and SUVs. While their model offering isn't as exhaustive as the competition, their vehicles emphasize performance, handling, technology and well-appointed cockpits.
The Infiniti brand was established in 1987 and initially targeted the North American market. Their first car was the 1989 Q45 sedan; powered by a 4.5-litre V8 that developed 278 horsepower and 292 pound-feet of torque, it rivalled the likes of Mercedes-Benz, BMW, Audi and Cadillac. A novel feature at the time was the revival of an analog clock mounted on the dash, while every other carmaker was offering digital readouts. Many luxury brands copied the idea.
In 1990, the M30 coupe and convertible appeared as the brand's second model, equipped with a 3.0-litre V6. A year later, the compact G20 sedan was introduced with a 4-cylinder engine. The rear-wheel drive J30 was added to the line-up in 1993 with a 3.0-litre V6.
Another mid-size sedan arrived in 1996, the front-drive I30, which was basically a more luxurious version of the Nissan Maxima. The brand's first SUV was launched in 1997, as the mid-size QX4, an upscale version of the Nissan Pathfinder. That same year, the Q45 received its first redesign and was equipped with a smaller, 4.1-litre V8.
The second-generation I30 appeared in 2000, and was renamed I35 the following year to reflect the 3.5-litre displacement of its new engine. The 2003 model year brought many models to Infiniti's line-up: the G35 coupe and sedan, offered in rear-wheel and all-wheel drive configurations, the V8-powered M45 coupe as well as the all-wheel drive FX35 and FX45 mid-size crossovers.
In 2004, the QX56 full-size SUV replaced the QX4, while the M35 and M45 sedans arrived in 2006. The second-generation G coupe and sedan were introduced for the 2007 model year, and the compact EX35 crossover was added a year later, the latter featuring an innovative 360-degree camera system that provides a bird's-eye view of the vehicle to help during parking manoeuvres. The G35 was renamed to G37 due to its increased engine size, while the redesigned FX35, FX50, M37, M56 and QX56 followed.
Today, Infiniti's line-up includes the compact G coupe, sedan and hardtop convertible, the mid-size M and M Hybrid sedans, the EX, JX and FX crossovers as well as the QX sport-utility vehicle. A performance line of vehicles called IPL has also been introduced, and currently includes the IPL G Coupe.
Infiniti Sport Utility 2018-2019
Discontinued Infiniti models