New Land Rover Cars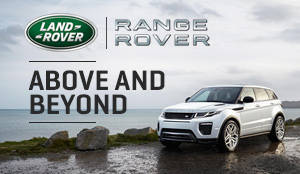 Land Rover Canada
Land Rover is a British manufacturer known all over the world for producing sophisticated SUVs that can tackle the most difficult terrains.
Rover Company was the first to use the name in 1948 by presenting the Land Rover at the Amsterdam Auto Show. Its rugged architecture and go-anywhere capabilities – attributes still found on modern Rovers – quickly earned the love of customers. Two years after entering mass production, the vehicle easily outsold every other product in the company's lineup.
A steady evolution during the '50s and '60s brought greater stability and a shorter turning radius with such models as the Series II and Series IIA. Land Rover went on to dominate the growing market of 4x4 vehicles.
In 1967, Rover Company was purchased by Leyland Motors, which in turn was swallowed by British Leyland, and became Rover Triumph.
The first Range Rover appeared early in the next decade, along with the Land Rover Series III.
Facing serious financial troubles, British Leyland wound up under government control. Restructuring efforts initiated by Britain resulted in the brand switching names to Land Rover Leyland Group. In 1978, another legal change saw the creation of Land Rover Limited as a separate division of British Leyland.
People had to wait until 1980 to witness a new model, namely the five-door Range Rover. Next came the Land Rover 90 in 1983 (renamed Defender at the start of the '90s).
British Leyland morphed into the Rover Group in 1986. At the same time, the Range Rover made its debut in North America. Three years later, the manufacturer launched the Discovery, a midsize SUV based on the Range Rover and sold at a lower price to rival similar Japanese products.
BMW took over the Rover Group in 1994 just as the second-generation Range Rover hit the market. The late nineties also produced the Freelander and Discovery 2.
The German automaker sold the brand to Ford at the turn of the century. Under Blue Oval stewardship, the third-generation Range Rover (2002) rolled off the assembly line, followed by the Range Rover Sport (2005) and Freelander 2 (2006).
In 2007, Jaguar and Land Rover began selling their products under the same roof and caught the attention of Indian-based Tata Motors, which eventually purchased the two a year later.
Today, Land Rover's lineup consists of six SUVs, including the Land Rover Defender, Land Rover Freelander 2 (aka LR2 in North America), Land Rover Discovery 4 (aka LR4 in North America), Range Rover, Range Rover Sport and Range Rover Evoque (launched in 2011 as a 2012 model).
Discontinued Land Rover models