New Lexus Cars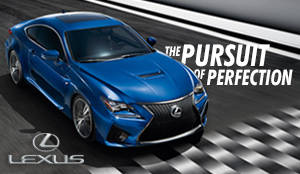 Lexus Canada
Lexus is a luxury brand created by Toyota that offers a complete line of cars, trucks and hybrid vehicles. Their reputation has been built on solid, reliable and luxuriously-appointed vehicles, although some criticism concerns their lack of pure driving involvement.
The Lexus division was established in the United States and Canada in 1989, and two cars were initially offered: the full-size, V8-powered LS 400, which rivalled luxury cars like the Mercedes-Benz S-Class and BMW 7-Series for much less money, and the Camry-based, mid-size ES 250. The SC 300 and SC 400 coupes arrived for the 1992 model year, while the ES 300 replaced the ES 250.
The vehicle line-up expanded with the addition of the GS 300 sedan in 1993 and the LX 450 full-size SUV in 1995, an upscale Land Cruiser. Two years later, the GS got a redesign and added a GS 400 variant. In 1998, the RX 300 mid-size crossover was introduced and quickly became a sales success, while the LX was renamed LX 470 due to an engine displacement increase.
Before the turn of the century, the compact-sized IS 300 sedan was launched, which also spawned the SportCross wagon for a few years, and in 2001, the SC coupes were replaced with the SC 430, a V8-powered roadster featuring a power-folding hard top. The flagship LS became the LS 430 that same year, while the GX 470 appeared for the 2003 model year.
Receiving a bigger V6 engine, the ES 300 became the ES 330 in 2004, the same year Toyota's Cambridge, Ontario plant started assembling the RX 330, now in its second generation. Lexus introduced its first hybrid model for 2005 as the RX 400h, and in 2006, a new IS was introduced as the IS 250 and IS 350, eventually adding a convertible version.
During the GS sedan's 3rd-generation cycle, engine displacements were increased and variants included the GS 300, GS 350, GS 430 and GS 460. A hybrid version also joined the line-up for the 2007 model year. The LS was renamed LS 460, adding long-wheelbase, all-wheel drive and hybrid versions in the process. In 2008, the LX got a redesign and a designation change to LX 570.
Today's Lexus product range includes the compact CT 200h hybrid hatchback, the IS sedan and convertible, the HS 250h hybrid sedan, the mid-size ES and GS sedans, the GS 450h hybrid, the full-size LS and LS 600h L hybrid, the RX and RX 450h hybrid mid-size crossovers, the GX and LX SUVs as well as the 552-horsepower LFA supercar, of which only 10 were offered in Canada.
Discontinued Lexus models