New Lincoln Cars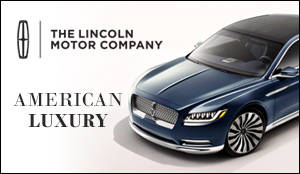 Lincoln Canada
As the luxury division of the Ford Motor Company, Lincoln offers a small range of upscale vehicles, including sedans, crossovers and sport-utility vehicles. In recent years, the brand sought out to attract a younger audience, which is reflected in their current product line-up.
The Lincoln brand was established in 1917 by Henry M. Leland, who had previously helped create Cadillac. The first V8-engined models were produced in 1922, but financial troubles forced Leland to sell his company to Ford. Under the new reign was born the Model L Town Car, created for new owner Henry Ford.
From 1923, Lincoln started offering a diverse selection of body styles, and was the vehicle of choice for people such as Thomas Edison. In the 1930s, the brand's first V12 engine was introduced, which powered the 1932 KB and the 1936 Zephyr, a streamlined-look sedan that really put Lincoln on the map. Before the end of the decade, the Continental was also launched.
After helping with the production of military vehicles during WWII, the Zephyr was retired while the Continental carried on until 1948, when the Cosmopolitan arrived as a sedan with suicide doors or as a convertible.
In the '50s, Lincoln introduced features such as power steering, power windows and power seats in their vehicles. Meanwhile, models such as the Lido, the Capri, the Premiere as well as the Continental Mark II and Mark III models came and went.
The redesigned Continental of the '60s, offered in coupe, sedan and 4-door convertible body styles, will forever be known as the car that John F. Kennedy was riding in when he was assassinated.
The 1970s brought bigger and plusher models in the Lincoln division, such as the Continental Mark IV and Mark V models. At the end of the decade, the brand released the mid-size Versailles, which lasted only four years. The flagship Town Car, no longer a trim level but a separate model, was introduced in 1981 while the Mark VII and downsized Continental and Navigator full-size SUV appeared a couple of years later.
Several models have come and gone from 2000 to 2010, including the LS sedan, the Aviator SUV, the Blackwood and Mark LT pickups, as well as a short return of the Zephyr nameplate.
Today, Lincoln's line-up includes the mid-size MKZ and MKZ Hybrid, the full-size MKS sedan, the MKX and MKT crossovers as well as the Navigator.
Discontinued Lincoln models