New Maybach Cars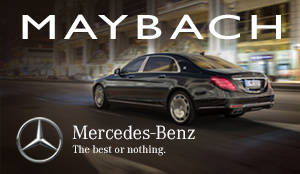 Maybach Canada
Maybach is a German car maker that produces some of the world's priciest and most prestigious automobiles.
Wilhelm Maybach, former technical director at Daimler-Motoren-Gesellschaft, founded Luftfahrzeug-Motorenbau in 1909. The company originally developed and manufactured diesel and gasoline engines for Zeppelins and then rail cars. It was renamed Maybach-Motorenbau in 1912.
An experimental car, the W1, was developed right after World War I. In 1921, a first production model, the W3, made its public debut at the Berlin Motor Show, featuring a 70-horsepower, 5.7-litre, 6-cylinder engine.
Up until 1940, the company built various opulent vehicles. Power kept increasing and a V12 engine soon appeared under the hood.
The assembly plant suffered damage during World War II. The necessary repairs were performed, but automotive production never restarted. Daimler-Benz ended up buying Maybach in 1960.
Mercedes-Benz presented at the 1997 Tokyo Motor Show a luxury concept car under the name Mercedes-Benz Maybach, boasting a 550-horsepower V12. The German automaker wanted an ultra-premium marque to compete with Rolls-Royce and Bentley, so the Maybach brand was revived.
In 2002, the 57 and 62 began deliveries. Despite weighing more than 6,000 pounds, these two V12-powered sedans can sprint from 0 to 100 km/h in 5.1 and 4.8 seconds, respectively. They also offer tons of standard features and amenities in a package with comfort and luxury to spare.
In 2006, the new 57S was added, sporting a 6.0-litre, twin-turbo V12 that produces 604 horsepower and 737 pounds-feet of torque. It was followed by the 62S (2006), 62 Landaulet (2007), 57 Zeppelin and 62 Zeppelin (2009). The Maybach Guard, an armoured version of the 62, finally arrived in 2011.
All these models are still sold by Maybach today.
Discontinued Maybach models