New MINI Cars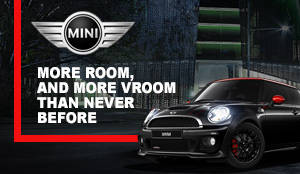 MINI Canada
MINI is a British car company presently owned by the BMW Group. Its small, lightweight cars offer retro-looking designs, great fuel economy and world-class handling.
Oil shortages in many countries, including the U.K., pushed the British Motor Corporation (BMC) to come to market with a thrifty little automobile in 1959 – the original Mini, penned by Sir Alec Issigonis.
At first, it was sold under different names, including Austin 850, Morris 850, Austin Partner, Morris Mascot and Austin Seven. The Mini designation appeared in 1961 when BMC launched the Austin Mini.
During the sixties, the car became very popular, with high-profile celebrities such as Queen Elizabeth II acquiring a copy from a number of available body styles. Production of the first-generation Mini reached 1,190,000 units at the end of the decade. However, BMC sold it nearly below cost, so profits were minimal.
Meanwhile, race car driver John Cooper, famous for developing F1 and rally cars, partnered with the company to design the Mini Cooper – a nimble, fuel-efficient and affordable model unveiled in 1961. The more powerful Cooper S followed two years later.
BMC, Standard-Triumph and Rover all merge to form British Leyland in 1968, just as the U.S. government announced that the Mini failed to meet safety and emission standards. The third generation and the ensuing evolutions never made it across the Atlantic, but they found a home elsewhere around the globe up until 2000.
The Mini Clubman and 1275GT made their debut in 1969. The former became the first-ever automobile to use a printed circuit board behind the instrument panel, while the latter featured reinforced-sidewall tires. They combined to produce 583,862 units until they were replaced by the Austin Metro in 1980.
Throughout the '80s and '90s, several special editions were introduced in the U.K. and turned the Mini into a highly-coveted, ultra-trendy product. BMW eventually purchased the brand.
On October 4, 2000, the last original Mini as we know it, a red Cooper Sport, came out of the factory. The German automaker later decided to modernize the car. A real resurrection then took place.
The new MINI was inaugurated in 2001 before landing in Canada and the United States the following year. A convertible variant hit the market in 2005. Both models were redesigned for 2007-2008, and new performance models labelled 'John Cooper Works' were introduced.
The MINI family has kept growing ever since and now includes the Cooper hatchback and convertible, the Cooper Clubman wagon (2008), the Cooper Countryman crossover (2010) and the all-new Cooper Coupé, which debuted in 2011 as a 2012 model.