New Rolls-Royce Cars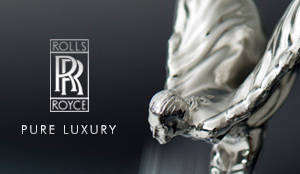 Rolls-Royce Canada
Rolls-Royce is a prestige car brand defined by unmatched opulence and class.
The company was founded in 1904 when Henry Edmunds set up a meeting with renowned engineer Henry Royce and Charles Rolls, who owned one of the first dealerships in Britain. Initial production took place in Manchester inside a small shop that belonged to Royce. In 1907, the Silver Ghost (40/50 HP) made a highly-successful debut that quickly required shifting operations to a larger facility.
The 20 HP, also known as the ''Baby Rolls-Royce'', was introduced in 1922. Three years later, the Silver Ghost gave way to the New Phantom, later renamed Phantom I. The last production unit rolled off the assembly line in 1927.
The following decade saw the birth of the Phantom II, which benefited from an upgraded chassis, and the famous Park Ward Continental, which could sprint from 0 to 60 mph (96 km/h) in 19.4 seconds and reach a top speed of 148 km/h. Meanwhile, the Phantom III became the first to exploit a V12 engine, allowing slightly higher performance than the outgoing model.
During World War II, Rolls-Royce focused on manufacturing aircraft engines, but that didn't stop the Silver Wraith (1946-1959) and Silver Dawn from coming to market.
The '50s elevated the brand to a class of its own when Princess Elizabeth and the Duke of Edinburgh chose to dismiss Daimler (their longtime car supplier) in favour of Rolls-Royce and the Phantom IV. Designed exclusively for the Royal Family and heads of state, it sold only 18 copies, securing a place among the rarest Rolls-Royces ever.
In 1955, the Silver Cloud was launched with a 4.9-litre engine derived from the Silver Dawn. It could drive as fast as 170 km/h.
Throughout the sixties, the company earned the adoration of celebrities. A movie titled ''The Yellow Rolls-Royce'' hit theatres in 1965 before John Lennon purchased a Phantom V and the Silver Shadow I appeared in showrooms. The latter was the first to ride on a unibody chassis and boasted 220 horsepower.
The Camargue and Corniche, both based on the Silver Shadow, arrived on the scene during the '70s.
Britain's Vickers acquired Rolls-Royce in 1980, after which the Silver Spirit and Silver Spur made their debut. When BMW took over a decade later, the impact proved immediate. The V12-powered Silver Seraph was the first new Rolls-Royce designed from the ground up in over 30 years.
The unveiling of the Phantom and Phantom Extended Wheelbase in 2003 signalled the beginning of a new era for the company – and a new benchmark in the prestige car segment.
The Drophead Coupé (2007), Phantom Coupé (2008) and Ghost (2010) now complete Rolls-Royce's lineup.
Discontinued Rolls-Royce models