New Tesla Cars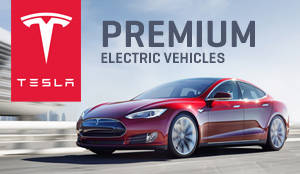 Tesla Canada
Tesla Motors operates from Silicon Valley, CA where it builds electric cars and components. The company gained international fame after becoming the first to sell an electric sports car and partnering with top automakers such as Toyota.
In 2003, Martin Eberhard, Marc Tarpenning, Ian Wright, Elon Musk and JB Straubel got the green light from AC Propulsion to introduce the T-Zero although it was just a prototype at the time. This marked the birth of Tesla Motors.
Now CEO of the brand, Elon Musk played a major role right from the start and conceived the ''Roadster'' project down to the smallest detail.
He has also been involved in Tesla's efforts to finance operations, investing a lot of his personal funds and drawing such big names as Sergey Brin and Larry Page (co-founders of Google), Jeff Skoll (former president of eBay) and even Daimler.
The Roadster, which made its world debut in July 2006, offers a range of 394 kilometres, sprints from 0 to 60 mph (96 km/h) in 3.9 seconds and reaches a top speed of 201 km/h.
After appearing on the cover of Time in December of that year, the car won the magazine's ''Best Invention of the Year – Transportation'' award. Production began on March 17, 2008.
Tesla later unveiled a Sport version delivering slightly better performance numbers, including 0-60 mph times of 3.7 seconds.
In June 2009, the U.S. government loaned $8 billion to the automaker to continue the development of electric cars and powertrains, and complete a new project called Model S.
Set to replace the Roadster, this sedan will serve as an alternative to the BMW 5-Series, Audi A6 and Mercedes-Benz E-Class once it hits the market, somewhere in 2012.
Available with three range options (260 km, 370 km or 480 km), it will exploit a powerful motor that takes five adults to 60 mph from a standstill in only 5.5 seconds.
Lastly, the Tesla Model X crossover premiered at the 2011 Frankfurt Motor Show.
Discontinued Tesla models