Eleven-year old Tyler Clem of Florida contested his first 360 sprint car race – a purebred racing machine that is powered by an 805-bhp V8 engine.
The youngster who is just 4 feet, 11 inches tall and weighs 115 pounds (that's 1.50m, and 52kg) proved he can handle the amazing power of a sprint car on a dirt track.
Tyler Clem has raced dirt modifieds, and is currently the limited late model points' leader at his home track, Bubba Raceway Park, a one-third-mile banked dirt oval in Ocala, Florida which happens to be owned by his father, Todd Clem.
Interestingly, Tyler has been a "developmental driver" for Tony Stewart Racing for at least three years. Todd Clem is a long-time friend of fellow Indiana native Tony Stewart, the former NASCAR Sprint car champion and a famed World of Outlaws sprint car racer.
Autoweek magazine reports that Tyler went on to finish 18th of 20 sprint cars in the 25-lap feature -- his night ended a few laps shy of the checkered flag when he tapped the wall with the nose of the car.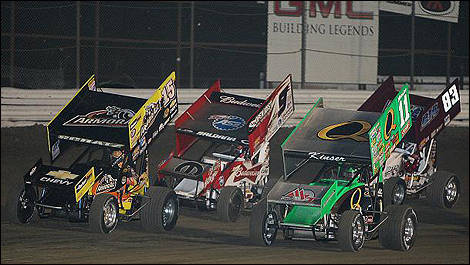 Sprint cars on a dirt track. (Photo: Houston Raceway Park)