Limited Edition Chevrolet Impala
To commemorate its long relationship with the Indianapolis Motor Speedway and the 500-mile Memorial Day race (it's sponsoring its 15th pace car this May), Chevrolet is bringing out a limited edition version of its Impala sedan.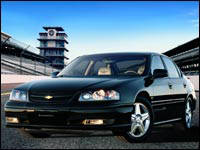 Only 4088 units of the Impala Indy SS will be built, with about 200 of them coming to Canada with the sticker price of $36,765. Indeed, they're already on sale at selected Chevrolet stores across the country.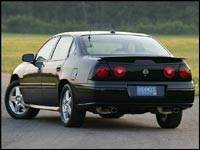 The Indy SS package is based on the new-for-2004 Impala SS sedan (MSRP $36,650), which has at its heart GM's 3800 Series II supercharged V-6, delivering 240 hp at 5200 rpm and 280 lb-.ft. of torque at 3600 rpm. This isn't a spiky torque point either, since the curve is consistently high over a broad operating range, which should provide better off-the-line acceleration and ample power for highway merging and passing.
Unique to the Impala Indy SS are 17-inch chrome diamond-cut aluminum wheels, monotone cross-lace grille with "gold" Chevy bowtie emblem and a rear spoiler.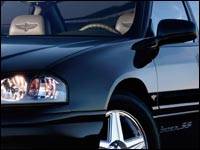 To make the connection to the famous Speedway obvious, they've installed a copy of the famous "winged wheel" on the front fenders and instrument panel, as well as embroidered into the front seat head restraints and floor mats.
Like the standard Impala SS, the Indy SS is available only in a monochromatic black exterior, complemented by grey leather seating surfaces inside.