2004 Chevrolet Optra5
GM of Canada will add another model to its Korean-built
Chevrolet Optra
four-door lineup this spring when it brings a front-drive hatchback to market at $16,190 for the base model and $17,800 for an LS trim.
This unique-to-Canada model, called the Optra5, is meant to give the Oshawa-based firm an advantage over such compact models as Ford Focus, Hyundai Elantra and Toyota Matrix and because it has the lowest sticker prices in the segment.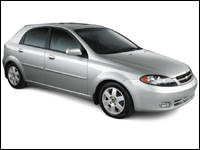 ''The all-new Chevrolet Optra5 features a sporty and stylish appearance that will appeal to young Canadians looking for an affordable, functional, and dependable car that is fun to drive," says Marc Comeau, the vice-president of vehicle sales, service and marketing for GM of Canada.
''This hatchback offers the same impressive list of features as the Optra sedan,'' says Comeau, ''plus more functionality and a distinctive exterior and interior design.''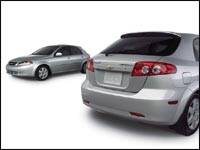 The exterior of the Optra5 is supposed to ''feature an international design with a luxurious yet muscular appearance,'' says Comeau, ''with unique all-new sheet metal makes the statement of sporty youthful styling.''
For those wanting to make a bold statement, Comeau adds, the Optra5 offers an available Appearance Package featuring unique 15-inch aluminum wheels, rear spoiler, leather steering wheel and shifter knob, steering wheel radio controls, molded mud guards, power sunroof and an eight-speaker stereo.
The five-seat Optra5 interior has a two-tone dash with deluxe silver metallic instrument panel, and round heating/cooling vents.
Standard equipment on the base Optra5 includes a four-speaker AM/FM/CD, tilt steering, intermittent wipers, and 60/40 split rear seat.
Air conditioning, power windows, remote door locks, and cruise control are standard on LS models.